Introduction to Estate Planning
Posted on March 03, 2011 10:30am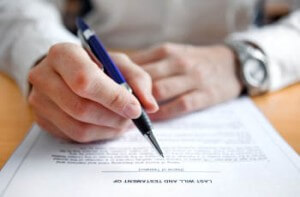 An estate plan is an essential collection of documents that describes your financial, medical and other important wishes in the event of your death or incapacitation. And as important as estate planning is, only about 35% of us actually have one according to figures published in Forbes magazine in 2010.
Why is that?
Many of us incorrectly believe that estate planning is only for the elderly or the wealthy. This perception can be quite dangerous. If you have fewer assets it is even more important that you think about how to preserve them. People with minor children or average-to-modest means are often the people who most desperately require proper planning in the event that they should die or become incapacitated.
The following is a basic guide on how to get started with your own estate planning.
What is an Estate Plan?
You need to understand what an estate plan is in order to fully understand why you should have one.
Estate planning generally consists of:
Will and/or trust – If you die without a will or trust, the state-not you or your family-will decide how your assets are distributed, who is named guardian of your children, and who will be in charge of your children's inheritance.
Powers of attorney for finances and health care – If you lose the capacity to care for yourself or make decisions, a power of attorney allows you to decide who will make those critical decisions for you. Without these documents, the state may select a person to oversee your finances or health care who you would never have wanted in control of these matters.
Health care directives and burial instructions – Healthcare directives (a.k.a. living wills or physician directives), along with organ donation and burial instructions, allow you to make your wishes for life-saving medical treatments and end-of-life care known to your doctors and family. In the absence of these documents, your wishes may never be known or followed.
How Do I Get Started with My Estate Plan?
Creating a plan requires you to consider your death or incapacitation. Though these topics can be unsettling, it is important to address these topics in your estate plan. Doing so will protect your wishes, help avoid unnecessary taxes, and provide great relief to your family in a time of heartache.
Speaking with a qualified estate planning attorney is essential. He or she can help you take stock of your assets and decide if you would be better served by creating a will, establishing a trust, or perhaps some combination of the two. The attorney can also make sure that you have properly designated guardians and protected the inheritances for your children, considered all of the tax implications, and created a more complete and legally sound estate plan.
Estate planning legal services are generally not expensive for most people. The cost will increase in proportion to the complexity of your estate. An estate planning lawyer will consult with you about your situation before providing an estimate of the costs. An average estate plan takes about four to six weeks to complete, depending on the size of your estate. It may take longer if your estate is more complex.
What You Will Accomplish in Your Estate Plan
Dictate who will receive what.
Despite how much money we have in the bank, many of us have strong feelings about how to fairly divide what we have. If you fail to create an estate plan, your estate will be divided according to your state's law, which has no regard for your family dynamics or your personal wishes. By drafting a will or trust, you can decide who will receive what and when they will receive it. You can also make a provision for a charity close to your heart.
Avoid unnecessary taxation.
By crafting a thoughtful plan, you can potentially avoid significant estate taxes at both the federal and state levels. An estate planning attorney can advise you about making annual gifts or establishing a living trust in order to avoid potential estate taxes. It is important to regularly update your estate plan to account for changes in federal and state laws.
Structure your inheritance vehicles to stretch your assets.
Some assets are reachable by creditors while others are not. Smart estate planning considers how to provide your family the most money possible.
Make preparations for your minor children.
One of the most important reasons for estate planning is to name a guardian for the custody and care of minor children as well as a custodian for managing children's inheritance funds. Disputes regarding custody and care of children can be expensive, unpredictable and heart-wrenching for all involved. It is also essential to have a plan for when your children will inherit any assets that may be left to them. Through an estate plan you can address:
Who will handle the children's money held on their behalf
How inheritance funds should be spent while the children are minors
The age upon which a child will receive his/her inheritance (if no provision to the contrary is made, the child will receive an inheritance upon turning 18)
Provide motivations for certain accomplishments (for example, allowing children to receive a large part of their inheritance upon college graduation)
Defuse family disagreements or competition.
By having a clear estate plan, you can assist your family by reducing the conflict and uncertainty about who will make decisions on your behalf. For instance, if you are single who should make health care decisions if you are unable to speak for yourself? This could very likely be a different person than the one you would elect to manage your finances. By clearly outlining who will make decisions for you and when, you can avoid family conflicts.
Make decisions about your end of life care.
Families often disagree about or feel extreme guilt regarding what end of life treatment is reasonable for their loved ones. You can avoid unnecessary and expensive medical treatments by limiting medications, nutrition and life support. Directives to your physicians enable you to make these difficult decisions, removing unnecessary burdens for your loved ones.
Direct your beneficiary designation.
Many of us have the bulk of our wealth set aside in one or more retirement accounts. At death, these accounts pass based on the beneficiary designation that you likely filled out within your first week on the job. The beneficiary designation is a vital decision that can significantly impact your entire estate. An estate planning attorney can help make sure your beneficiary designations are up-to-date and accurate. Do not allow your named beneficiary to be a former spouse, predeceased family member, or a minor child.
Memorialize your final wishes.
Many families are unsure about burial instructions, organ donation, and the type of memorial you would prefer. By providing your family instructions in your will, you take out the guesswork and allow your family to put their energies into supporting each other in the days following your passing.
Account for changes in your family structure.
Estate planning is particularly important after a birth, adoption, marriage or divorce. Keeping your plan up-to-date takes much of the confusion out of determining who the executor of your estate should be, or the identity of your heirs. Sorting this out through the court system can be a time consuming and costly endeavor for your family.
Provide your family peace of mind.
Of all the reasons listed above, this is the most compelling. No one wants to face the daunting task of dealing with a legal mess, especially when they have just lost a loved one. This can often be time-consuming, stressful, costly and intimidating for your family - and easily avoided by proper planning.
For more information on estate planning advice and services in Washington State, contact the attorneys at McKinley Irvin to discuss your estate planning needs.
---
Please be advised that family law cases can be very complex and are different for everyone, based on unique circumstances. The information provided here should not be construed as legal advice in your case.
McKinley Irvin proudly serves Washington State and Oregon with offices in Seattle, Bellevue, Tacoma, Puyallup, Vancouver and Portland. Contact our family law offices to set up an appointment with a McKinley Irvin family attorney.
Posted By
J. Blake Hilty