32 Shocking Divorce Statistics
Posted on October 30, 2012 11:06am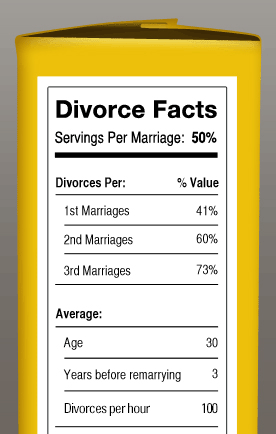 The U.S. Census Bureau found that divorce rates for most age groups have been dropping since 1996. Looking at specific divorce statistics for age and region — as well as gay and celebrity divorce rates — can provide an interesting picture of divorce stats in the U.S.
United States Divorce Statistics
Most people already know that around 50 percent of marriages in the United States end in divorce. The number is similarly high in many other developed nations.
When you break that down by number of marriages:
41 percent of first marriages end in divorce.
60 percent of second marriages end in divorce.
73 percent of third marriages end in divorce.
This graph looks at the age groups of those getting divorced:
| | | |
| --- | --- | --- |
| Age | Women | Men |
| Under 20 years old | 27.6 percent | 11.7 percent |
| 20 to 24 years old | 36.6 percent | 38.8 percent |
| 25 to 29 years old | 16.4 percent | 22.3 percent |
| 30 to 34 years old | 8.5 percent | 11.6 percent |
| 35 to 39 years old | 5.1 percent | 6.5 percent |
Divorce Facts
In America, there is one divorce approximately every 36 seconds*. That's nearly 2,400 divorces per day, 16,800 divorces per week and 876,000 divorces a year.
The average length of a marriage that ends in divorce is eight years.
People wait an average of three years after a divorce to remarry (if they remarry at all).
The average age for couples going through their first divorce is 30 years old.
Seventy-nine point six percent of custodial mothers receive a support award, while only 29.6 percent of custodial fathers receive a support award.
Forty-six point nine percent of non-custodial mothers totally default on support, while only 26.9 percent of non-custodial fathers totally default on support.
About 1 percent of the total number of currently married same-sex couples gets divorced each year, in comparison to about 2 percent of married straight couples. (Note that the percent of couples that get divorced eventually is 50 percent, but only one or two percent get divorced in a particular year.)
Celebrity Divorce Facts
Mel and Robyn Gibson's divorce in 2009 is considered to be the largest celebrity divorce settlement, as Mel paid his ex $425 million.
The celebrity who has been married and divorced the most is actress Zsa Zsa Gabor, who has been married nine times.
Britney Spears holds the record for shortest celebrity marriage; her union with friend Jason Alexander lasted only 55 hours before it was annulled.
Statistics on the Likelihood of Divorce
If your parents are happily married, your risk of divorce decreases by 14 percent.
People who wait to marry until they are over the age of 25 are 24 percent less likely to get divorced.
Living together prior to getting married can increase the chance of getting divorced by as much as 40 percent.
If you've attended college, your risk of divorce decreases by 13 percent.
2008 voter data shows that "red" states (states that tend to vote Republican), have higher divorce rates than "blue" states (states that tend to vote Democrat).
The Barna Research Group measured divorce statistics by religion. They found that 29 percent of Baptists are divorced (the highest for a US religious group), while only 21 percent of atheists/agnostics were divorced (the lowest).
Divorce and Children Statistics
The divorce rate among couples with children is 40 percent lower than couples without children.
Forty-three percent of children growing up in America today are being raised without their fathers.
Seventy-five percent of children with divorced parents live with their mother.
Twenty-eight percent of children living with a divorced parent live in a household with an income below the poverty line.
Half of all American children will witness the breakup of a parent's marriage. Of these children, close to half will also see the breakup of a parent's second marriage.
Divorce Statistics by State and Region
Which states have the highest divorce rate?
Oklahoma has the highest overall divorce rate at 13.45. Thirty-two percent of Oklahoma adults who have ever been married have been divorced.
Arkansas has the second highest rate of divorce in the country at 13.15. The divorce rate for men in Arkansas is the highest in the country at 13.5.
Alaska's divorce rate of 13.05 is the third highest. Alaska has the highest divorce rate for women in the country at 16.2.
Overall, people living in northeastern states have lower marriage and divorce rates. While those in southern states are more likely to get married, they also have higher divorce rates.
Divorce statistics can highlight facets of divorce that follow unexpected trends. For a better understanding of the divorce process, visit McKinley Irvin's divorce blog.
* Source: http://1.usa.gov/1dMPvI2
Posted By
McKinley Irvin