6 Most Surprising Celebrity Divorces of 2012
Posted on July 18, 2013 11:25am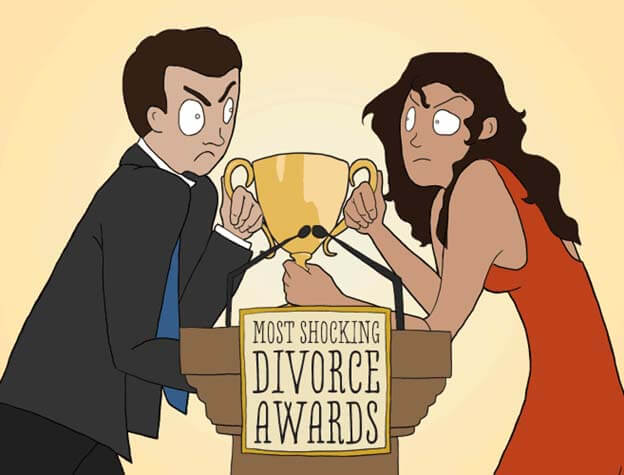 It's hard for any couple to keep a marriage together, but it seems to be exponentially more difficult if you're both celebrities. Between insatiable paparazzi, scads of groupies and months away on set (usually with ridiculously attractive co-stars, see example *), the relationships of actors, actresses, musicians and athletes repeatedly collapse under the pressure.
Of course there seem to be exceptions: Tom Hanks and Rita Wilson, the late Paul Newman and Joanne Woodward, Bennifer II. But even pulling out those three took quite a bit of mental anguish and IMDb surfing.
In the blinding glare of the spotlight, the following couples decided to call it quits in 2012.
Tom Cruise & Katie Holmes
We should have known they were destined for the Danger Zone when he insisted on calling her "Kate." But did this couple ever stand a chance? He's the world's biggest movie star and she's... well, Joey. And rumors about sexuality, Scientology and a silent birth couldn't have helped matters. At least they emerged with the world's cutest human, Suri - you can check out some of her (fake) tweets @Therealsuri. The kid knows how to throw down.
Heidi Klum & Seal
Let this be a lesson: Do not marry a person with no last name. Also, do not marry a person named after a legless mammal. If you're a supermodel, you can afford to be a little choosy. If you're a supermodel with a media EMPIRE (ahem, Project Runway), you can even afford a classy triple-namer like this guy.
Will Arnett & Amy Poehler
Perhaps the saddest break-up of the year, these funny people appeared to be the perfect couple. Goofy, irreverent and both friends with Tina Fey, Will and Amy seemed destined for a future that included Gin-Gimlet-infused golf cart driving and telling kids to stay off their lawn. But it was not to be. On the plus side, that leaves them open for two lucky people. Mutual awesomeness seems a little unfair to the rest of us.
Rhea Perlman & Danny Devito
Blame it on the Limoncello, but Arnie's (short) Twin and Carla from "Cheers" apparently outgrew each other after 30 years of celeb coupledom. All may not be lost, however. Though they've separated, as of December, DeVito said the couple was "still together, just separate, but together" - whatever that means...
Jennie Garth & Peter Facinelli
When they married, she was from Beverly Hills and he was an up-and-coming actor. But then he became a Cullen and everything changed. Suddenly he was platinum blonde and advising Edward on hot vampire lovin'. We might as well blame this on Kristen Stewart, too...
Katy Perry & Russell Brand
OK, this one's not surprising at all, but still noteworthy. The self-described recovering sex and heroin addict married America's sweet but risqué hit-generating pop tart. Strangely enough, after giving the straight and narrow a brief shot, Russell returned to form - eyeliner and dubious hygiene intact.
Angelina Jolie & Brad Pitt
Just kidding, folks. They're not even married yet. Resume breathing.
*This one's rumored to have broken up Johnny Depp and his partner of 14 years, Vanessa Paradis. Though not officially married, the length of their relationship was eons in Hollywood years.
Posted By
McKinley Irvin