24 McKinley Irvin Attorneys Named to 2023 Super Lawyers and Rising Stars Lists
Posted on July 31, 2023 11:18am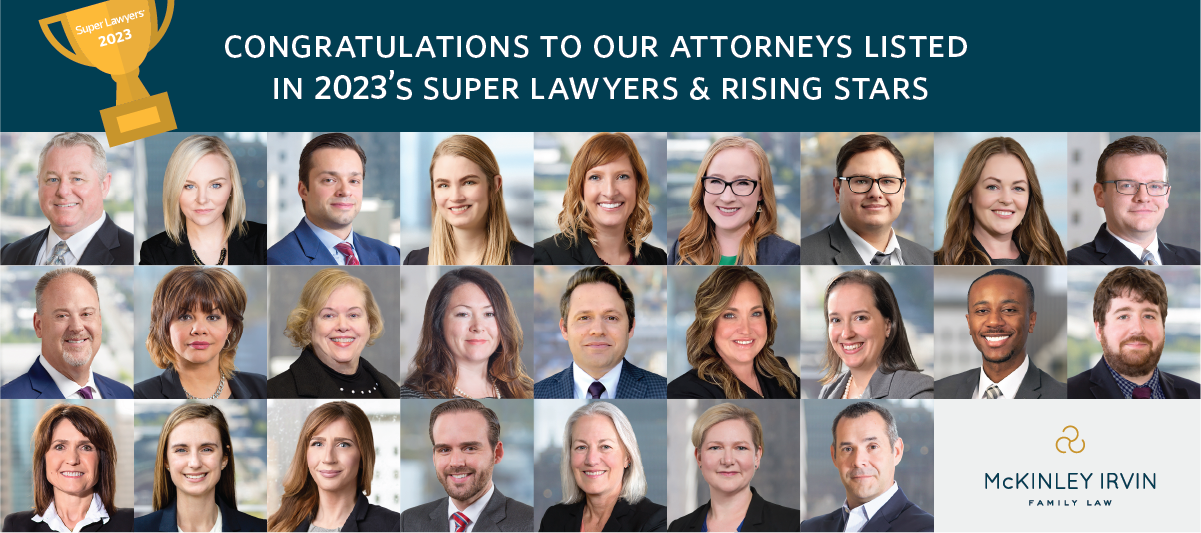 We are proud to announce that 24 of McKinley Irvin's family law attorneys have been included in the 2023 Super Lawyers and Rising Stars lists, setting a new firm record.
Brent Bohan, Brian Edwards, and Liz Hoffman-Graff were named Super Lawyers for the first time, and Hillary Dawn, Eric Leavitt, Anne Marggraf, and Margaret Quartararo made their inaugural appearance on the Rising Stars list. Portland attorney, Jack Dekovich, was included in both the Oregon and Washington lists.
Partners David Starks and Jennifer Payseno were honored to be named in the Top 100: 2023 Washington Super Lawyers List, with Payseno also ranking in the Top 50: 2023 Women Washington Super Lawyers list.
Only 5 percent of all attorneys are selected as Super Lawyers and 2.5 percent are selected as Rising Stars each year. Super Lawyers are nominated by their peers for their professional accomplishments and dedication to the practice of law. Finalists are selected using independent, third-party research to determine the top five percent of the highest achieving attorneys. The Rising Stars list is established by the same process and recognizes attorneys who are under the age of 40 or have been in practice less than 10 years.
It is an honor for our attorneys to be recognized for their leadership and knowledge in family law. Congratulations to the following McKinley Irvin attorneys who have received recognition this year:
McKinley Irvin 2023 Super Lawyers:
McKinley Irvin 2023 Rising Stars:
The complete 2023 Washington and Oregon Super Lawyers and Rising Stars lists are published on superlawyers.com and in Super Lawyers magazine.
Read the press release here >
Posted By
McKinley Irvin