New: A Guide for Social Media & Digital Communications in Divorce
Posted on July 28, 2015 02:09pm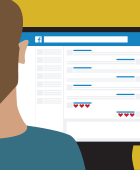 Social media, text messages, emails, and other digital communications are now routinely cited in divorce cases. We've published our latest divorce guide, "Digital Divorce: A Guide for Social Media & Digital Communications in Divorce," to explain how what you "share" online may also be shared in the courtroom...and what you can do about it.
Check out the complete Digital Divorce guide here.
Guidelines for Proper Online Communications
The Digital Divorce Guide also includes comprehensive guidelines for proper digital communications. Learn how to behave properly and protect oneself online during divorce – read the guidelines here.
New Stats on Social Media, Marriage, and Divorce
We've also compiled some of the fascinating data about the impact of social media on marriage and divorce into our latest infographic, also featured in the Digital Divorce guide:

Posted By
McKinley Irvin