Gray Divorce: Essential Tips for Divorce after 50
Posted on January 26, 2015 04:42pm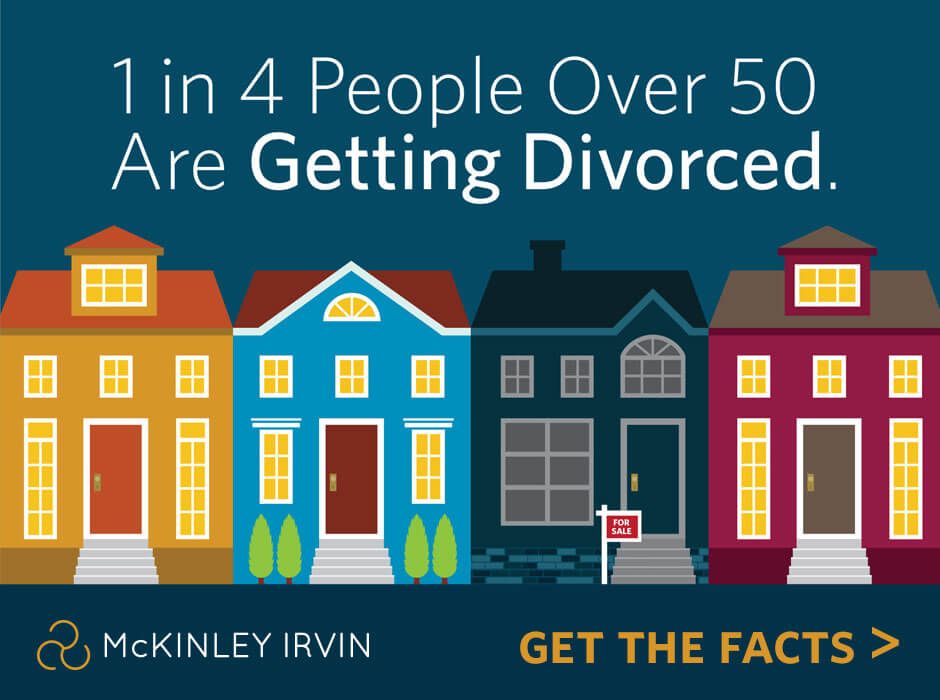 More people are getting divorced later in life than ever before. In fact, 1 in 4 divorces now involve couples over the age of 50. McKinley Irvin has published a comprehensive guide that addresses the trends and effects of this phenomenon, as well as the significant legal issues that exist in a Gray Divorce.
As seen in 425 Business Magazine and the Avvo NakedLaw Blog
What makes a Gray Divorce different?
Getting divorced is never easy. Divorcing when you're getting closer to retirementg age, however, presents a unique set of complications:
How do we divide our retirement funds?
How will I have enough income to support myself after the divorce?
How will our marital assets be divided?
What will the divorce do to our estate plan (will/trust) and our children's inheritance?
Will I still be entitled to my spouse's social security?
What will I do about health and life insurance?
Are both spouses competent enough to represent themselves capably?
How will I be taken care of in my old age without my spouse to care for me?
Gray Divorce, A Comprehensive Legal Guide for Divorce After 50 addresses all of these questions, in order to better prepare those considering or facing a divorce later in life, as well as what you need to know after divorce about remarriage, benefits, and spousal support.
What's the biggest mistake you can make in a Gray Divorce?
We believe one of the biggest mistakes people often make when deciding to divorce is not doing their homework. While a divorce is a difficult and emotional decision, drastically altering your life plans when you are older can have significant consequences that should be carefully researched. Speaking with an attorney and a financial expert before you make your decision will show you what the consequences of your divorce will be and how best to proceed.
For more information on Gray Divorce, view the guide. If you wish to speak to an attorney about Gray Divorce, please view our attorney profiles or contact us to schedule a consultation.
Posted By
McKinley Irvin