Intro to Gray Divorce
Ending a marriage later in life is complicated. Many couples aren't prepared for the unique legal issues and practical considerations that exist for older people, which can be daunting. The financial implications, particularly, are far reaching and can significantly impact the rest of both spouse's lives.
Some of the most concerning issues include healthcare, insurance, business interests, retirement savings, Social Security, estate planning, and taxes. The purpose of this guide is to provide insight into these issues for those who are older and are considering or facing a divorce.
What is "Gray Divorce?"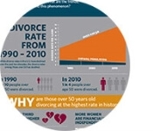 The phrase "Gray Divorce" refers to divorces involving spouses over the age of 50, and who are typically members of the Baby Boomer generation. While the overall divorce rate has declined over the past 20 years, it has doubled for the segment of the population over age 50. This trend of older divorces has been coined Gray Divorce.
Check out our infographic on The Rise of Gray Divorce.
Why Are People Divorcing Later In Life?
While every divorce has its own unique circumstances, some trends have been identified in the Gray Divorce phenomenon.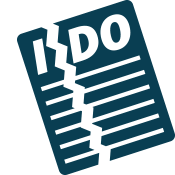 Divorce Seems to Repeat Itself
Second, third and fourth marriages, not uncommon in the Baby Boomer generation, appear to have a lower success rate. The divorce rate for people over 50 who have been married more than once is 2.5 times higher than those who have been married only once. For remarried individuals over age 64, the divorce rate is nearly four times higher than those with only one marriage.
Postponed Divorces
Couples with children often postpone a divorce until after their children are grown. One or both spouses aren't happy in the marriage, but they choose not to divorce until their children are raised.
Empty Nesters
Other couples find that after their adult children leave the family home, their marriage is no longer strong enough to survive.
Retirement
When one or both spouses retire, the dramatic change in lifestyle can negatively affect the marriage. Some retired couples find that the increase in time spent together is not a source of happiness, or that personal interests in retirement are not compatible.
Financial Reasons
Many people hold off on divorcing until they feel financially stable enough to do so. This tends to occur more frequently with women. However, a shift may be occurring — women between the ages of 40 to 69 now initiate a divorce 66 percent of the time, which may indicate that women in this age range are currently feeling more financially independent.
General Dissatisfaction
With general attitudes toward divorce becoming more relaxed, many of their peers divorced or divorcing, delayed retirement ages and longer life spans, it just may be that people over 50 who are unsatisfied in their marriage are finding it easier to make the decision to divorce.
Issues Impacting Divorce After 50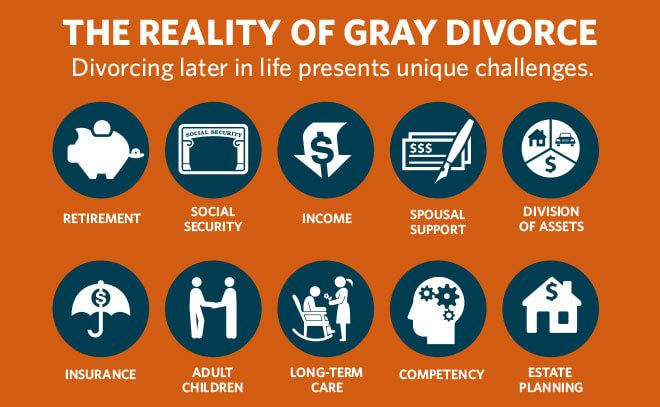 This guide discusses the unique considerations that apply to divorces later in life, which include these important issues:
(View our Quick Guide to Gray Divorce Issues for an easy-to-digest and quick explanation of the issues unique to Gray Divorce.)
Famous Gray Divorces
The increase in the divorce rate for long-term couples hasn't escaped the realm of celebrity. With increasing frequency, famous couples are splitting after decades of marriage.
Clint Eastwood and Dina Ruiz (His second marriage, her first. Married 1996, divorced 2013.)
Rupert Murdoch and Wendi Deng (His third marriage, her first. Married 1999, divorced 2013.)
Arnold Schwarzenegger and Maria Shriver (First marriage. Married 1986, divorced 2011.)
Mel and Robyn Gibson (First marriage. Married 1980, divorced 2011.)
Morgan Freeman and Myrna Colley-Lee (His second marriage, her first. Married 1984, divorced 2010.)
Al and Tipper Gore (First marriage. Married 1970, separated 2010.)
Madonna and Guy Ritchie (Her second marriage, his first. Married 2000, divorced 2008.)
Robin Williams and Marsha Garces (His second marriage, her first. Married 1989, divorced 2008.)