13 McKinley Irvin Attorneys Selected to Washington Super Lawyers 2015
Posted on June 15, 2015 03:00pm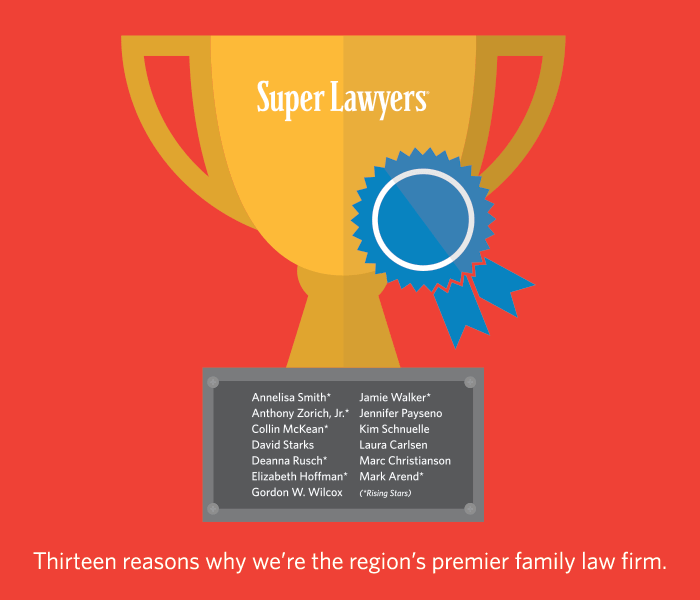 Over half of our firm's practicing attorneys have been selected by their peers for inclusion on the 2015 Washington Super Lawyers and Rising Stars lists. Only 5% of all attorneys are chosen for Super Lawyers. Only 2.5% are included on the Rising Stars list.
What is a Super Lawyer / Rising Star?
The Super Lawyers recognition is given to attorneys who are nominated by their peers for their professional accomplishments. Nominees then undergo an independent research process to select the highest achieving attorneys in each state. The Super Lawyers list includes the top 5% and the Rising Stars list includes the top 2.5% who are under 40 or in practice for 10 years or less.
The Top 100
Super Lawyers also publishes a list of the Top 100 attorneys ranked at the top of the Super Lawyers list. McKinley Irvin attorneys Marc Christianson and David Starks are in the Top 100 list of attorneys for Washington State.
Our Listed Attorneys
Here are the McKinley Irvin family law attorneys in Seattle, Tacoma, and Vancouver, WA included in this year's list:
2015 Washington Super Lawyers:
2015 Washington Rising Stars:
For more information on this announcement, read the press release.
Posted By
McKinley Irvin