How Living Together Affects Child Support and Spousal Maintenance
Posted on July 28, 2014 03:25pm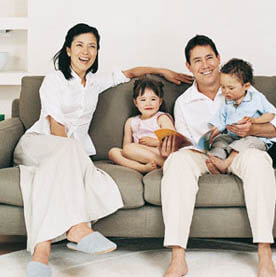 What Happens to Child Support and Spousal Maintenance if You Cohabitate During or After Divorce?
Couples going through a divorce are often unclear as to what legal effect, if any, moving in with a new partner will have on their legal rights. Most commonly, there is a concern that co-habitation (living with a new boyfriend or girlfriend in a 'marriage-like' arrangement) might affect a spousal maintenance award or the amount of child support that is to be paid or received.
The following provides general information for individuals considering moving in with a new spouse or partner during or following a divorce—as well as those seeking to modify maintenance or child support based upon the cohabitation of a former spouse.
What is the Legal Effect of Cohabitation on Spousal Maintenance?
In general, in Washington State, a spousal maintenance award (sometimes called 'alimony') cannot be modified unless:
there has been a "substantial change in circumstances,"

that was not contemplated by the parties at the time of their divorce, and

that implicates the ability of one spouse to make their required payments or the financial need of the spouse receiving maintenance.
For example, if a spouse that has been ordered to pay spousal maintenance declares bankruptcy, loses a job or experiences a failure of a business, a court may consider the new financial situation to be a "substantial change in circumstances" and accordingly decrease the amount required to pay. Similarly, if a spouse entitled to receive maintenance wins the lottery, the decreased financial need will also probably result in a decrease or termination of the maintenance award.
Based upon Washington's "substantial change in circumstances" rule, cohabitation (or even remarriage), by itself, does not justify the modification of a spousal maintenance. In fact, the termination of spousal maintenance based solely upon cohabitation is not permitted in Washington State.
However, if cohabitation results in significantly increased economic support (perhaps as a result of a new spouse's income) and meaningfully reduces financial need, then a reduction or termination of alimony obligations might be justified. In the same way, if cohabitation results in a spouse's substantially increased ability to pay, the monthly required payment may be increased.
What is the Legal Effect of Cohabitation on Child Support?
The rules concerning cohabitation and the modification of child support are similar to those governing the modification of spousal maintenance awards. Child support orders cannot be modified based upon a showing of cohabitation alone. However, if one spouse has experienced a "substantial change" in financial circumstances as a result of cohabitation, it is possible to petition the court for a modification of a child support order. Because of the way child support is calculated, however, it sometimes difficult to prove that cohabitation has resulted in a relevant "substantial change."
Child support obligations are allocated between parents based on each parent's share of their combined monthly net income. Thus, the income of a new non-parent spouse or partner (who is not legally obligated to care for or support the child at all) is generally not included in calculations of child support. As a result, even cohabitation with a very wealthy new spouse may be insufficient to justify a modification of child support.
Of course, that does not mean that the income of a new spouse is entirely irrelevant to a court's decision. In fact, a number of Washington courts have chosen to grant a modification of a child support order based largely on the income of a party's new spouse because it affects that party's "economic prospects" (a factor that a court is permitted to consider when adjusting child support).
Thus, like spousal maintenance, cohabitation will not automatically or necessarily result in the modification of a child support order, but it may be considered by the court when determining whether a substantial change in circumstances has occurred.
Can a Couple Agree to Modify Child Support or Spousal Maintenance (Through a Pre-nuptial or Separation Agreement) Due to Cohabitation?
Child support, because it is determined by statute and based upon income, cannot be modified by private agreement. Any attempt to include a provision in a pre-nuptial or separation agreement limiting the payment of child support based upon cohabitation is ill advised and will not be enforceable in court.
Agreements to modify spousal maintenance upon cohabitation are more common. Some agreements and divorce decrees, in fact, explicitly list certain events (including cohabitation) that will trigger an automatic modification. If your decree or agreement includes such a provision, either spouse may petition the court for a modification of a maintenance award based upon one spouse's choice to cohabitate. The outcome of that petition will likely depend upon an evidentiary hearing conducted by the court, and many Washington courts have found modification provisions triggered by cohabitation to be unenforceable. Thus, it is important to recognize that, in this arena, even a written agreement may not provide a guaranteed result.
An evidentiary hearing is not necessary if both parties can agree to a modification of spousal maintenance. An agreed upon modification can simply be drafted by the parties and submitted to a judge for approval.
For more information concerning the modification of spousal maintenance or child support upon cohabitation, contact a McKinley Irvin family lawyer or read more about negotiating and calculating child support and spousal support.
Posted By
McKinley Irvin