What to Expect If You Have to Go to Trial
Posted on May 06, 2013 12:45pm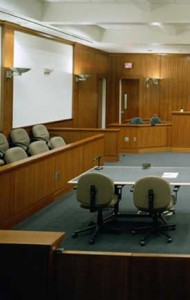 Family Law and Trial
In a family law proceeding, the thought of trial can be intimidating. If a litigant reaches this point, it means the parties could not settle matters on their own, through counsel, or through mediation, which is required in most family law proceedings.
Most people have never experienced an event like a trial. Many people unfamiliar with the process assume it is similar to what they see on television. It is not. An understanding of what to expect if you have to go to trial can help reduce stress and intimidation. The following summarizes what to expect should your family law case proceed to trial.
Duration of Trial
The length of time after a case is filed and prior to trial depends on the jurisdiction in which the case is heard. Prior to trial, specific deadlines must be met, including discovery, witness lists, and mediation.
Discovery is a fact finding process in which each side has the opportunity to gather information about the other party ( e.g. financial information, medical information, and parenting information). Discovery must be completed by a certain time before trial commences, otherwise you may lose your right to perform discovery and use the information at trial.
In addition to discovery, it is imperative you fully disclose the witnesses you intend to call at trial to testify. The disclosure generally must contain contact information and a brief explanation of the expected testimony. If witnesses are not disclosed in a timely manner, you may lose the right to call a witness at trial.
Lastly, before commencing trial, it is typically required that you engage in mediation to try and settle your differences. (Read more on how long a divorce takes.)
A Common Myth about Family Law Trials
A common misunderstanding among family law litigants is the belief trial is before a jury. Family law trials are not decided by a jury. They are bench trials in which the judge alone oversees the trial proceeding and makes decisions. Thus, presentation and appearance before a judge at trial in a family law proceeding is of utmost importance.
The length of your trial depends on the number and complexity of issues before the court. Generally, the length of your trial is determined at the outset, and each party is told how many days he or she has to put on his or her case. The party who filed the divorce presents his or her case first, and the party responding to the dissolution presents his or her case second. The party presenting first then will have an opportunity to reply briefly to the issues raised by the responding party.
How Family Law Trials Work
At the outset of trial, each party is permitted to present an opening statement. It is important to remember an opening statement is not evidence. It is used to provide the court a snapshot of the evidence to be presented and your trial position.
Prior to trial, each party already will have provided the court with his and her respective trial memorandums, evidence notebooks, and proposed final orders. Thus, prior to trial commencing, the judge should have a basic understanding of each party's trial position and the reasons underlying that position.
Witnesses at Family law Trials
At trial, the two most important witnesses are the parties. Presentation and preparation for testimony is crucial to your success at trial. During direct and cross examination, a judge carefully listens to the parties, assessing credibility. Thus, the manner in which you provide answers is as important as the substance of those answers.
You also should anticipate answering not only the direct examination questions of your attorney, but also the cross examination questions from the opposing counsel. A strong way to prepare for cross examination is to role-play with your counsel prior to trial.
The Courtroom
A courtroom's appearance will likely be a variation of benches in the back of the room, two counsel tables in front of the benches, the judge's bench in the middle and in front of the two counsel tables, and a witness booth to the side of the judge's bench.
Courtrooms are generally open to the public unless there is a specific reason for the proceedings to be private, but this a rare occurrence. Thus, you should not be surprised if unknown third parties enter and leave the courtroom.
The Judge
The level of judge interaction in your trial will depend on the judge assigned to a case. On one extreme, a judge may be very involved, at times asking his or her own questions and elaborating on attorney examination questions. On the other extreme, a judge may be completely uninvolved, simply taking notes on the proceeding. A judge will ask his or her own questions for a variety of reasons, perhaps wanting clarification on a particular issue or wanting to explore an area of the case not addressed by an attorney's examination questions.
Closing Arguments
After each party rests his and her case, each party is afforded an opportunity to provide a closing argument. Similar to an opening argument, a closing argument is not evidence. A party's closing argument should focus on the evidence presented.
Generally, an attorney providing a closing argument touches on the most relevant and important witness testimony and documentary evidence. A strong closing argument will succinctly address these points and conclude with a compelling argument in support of the client's case.
Decisions by the Court
Delivery of a trial court's decision is also judge-specific. A judge may provide the parties an oral ruling on the day the trial concludes, provide the parties an oral ruling at a specific date within a few weeks of trial concluding, or draft final orders for the parties and present the decision as completed final orders. Generally, the prevailing party drafts the final orders from the oral ruling.
Preparation is the key to trial success. Take the time to meet with your attorney as often as he or she needs to meet, as you have only one opportunity to put on your case. Do not be timid in asking questions of your counsel as you prepare for, and proceed through, trial. With an understanding of the trial process, and proper preparation, your likelihood of success substantially increases.
For some tips on how to behave in court, check out What to Expect in Divorce Court.
Posted By
J. Blake Hilty