Searching for Hidden Assets in a Divorce
Posted on June 04, 2013 12:54pm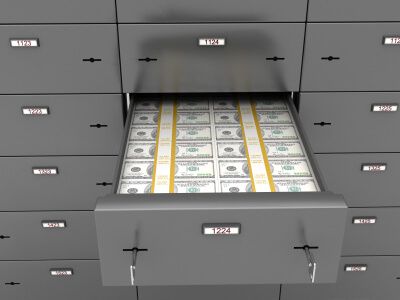 "Is my spouse hiding assets?" Many people contemplating divorce or already involved in divorce proceedings may ask that unsettling question. Fortunately, there are a number of ways to search for hidden assets in a divorce.
Searching in Available Documents
A careful review of various financial documents like the ones described below may help answer whether your spouse may be hiding money in a divorce:
Bank Statements
Bank statements can provide a wealth of information. For example, if statements show expenditures by your spouse that are inconsistent with known resources, this may indicate additional hidden resources someplace else. Similarly, if the bank statements do not reflect certain bills that you know to exist, this may indicate that your spouse has another account from which he or she pays those bills and which, therefore, holds additional resources.
Bank statements may also reflect deposits that are inconsistent with a spouse's documented income, significant cash/ATM withdrawals, or transfers from known accounts to unknown accounts.
Credit Card Statements
Credit card statements show charges and payments. When reviewed along with bank account statements, credit card statements may indicate a spouse has undisclosed resources.
For example, a spouse may take a cash advance against a credit card, yet the funds may never be deposited into a disclosed bank account. This could indicate a hidden account. Or a spouse may make payments on a credit card that are not reflected on his or her disclosed bank statements. This also could indicate a hidden account.
Tax Returns
Tax returns can provide vast amounts of information when prepared correctly and when reviewed by someone who knows what to look for, like a skilled attorney. Returns may show previously undisclosed investments or interest-bearing accounts, or income generated from previously unknown property, businesses, or investment accounts.
Business Records
As with tax returns, business records also provide significant information for professionals who know what to look for. It is very important to have a competent attorney when a divorce involves a business. This is because closely-held or family-based businesses often afford one spouse the opportunity to manipulate the books in order to make it appear that expenses are higher and/or that income is lower. An experienced attorney can minimize the risks associated with undervaluing such a business.
Obtaining Documents and Information
Naturally, if your spouse is hiding assets, he or she may not voluntarily give you access to the types of records listed above. In the event the above documents are not readily available, an attorney can assist in obtaining the necessary information and documents using some of the following techniques.
Discovery
"Discovery" refers to formal requests for information and documents. There are several types of discovery. Some discovery can be sent only to your spouse, while other discovery can be sent to third parties such as banks, credit card companies, employers, and so on. Consult an attorney to help identify the most effective forms of discovery in your case.
Tax Returns
If there is doubt as to the authenticity of a tax return copy provided by your spouse, you or your attorney can always request copies directly from the IRS or other state taxing authority. For requests to the IRS, a taxpayer need only submit a Form 4506, which can be found on the IRS website, and submit payment for the complete transcripts.
Private Investigators
Private investigators have access to databases that are not generally available to the public. Additionally, a private investigator may be able to help search for public records (such as real estate records) that may not be readily available and that may reveal previously undisclosed assets.
However, always talk to your attorney before hiring a private investigator. The laws are different in each jurisdiction and some jurisdictions impose restrictions against some types of investigations (such as surveillance, which may be considered stalking).
Forensic Review
Sometimes it can be difficult for even a skilled divorce attorney to fully evaluate your spouse's financial records and information without the assistance of a forensic expert. Forensic experts, often CPAs, have additional training and experience and are in the best position to evaluate whether and to what extent there may be hidden assets. CPAs are also helpful when dealing with closely-held or family-based businesses. If the financial records are complex or if a business is involved, your attorney can help evaluate whether a forensic expert would be helpful.
Act Quickly if You Suspect Your Spouse is Hiding Money
Because the issue of hidden assets is very serious, if you believe that your spouse is or may be hiding assets, you should act quickly. The more time that passes, the harder it becomes to locate hidden assets. Consulting an attorney who is familiar with complex divorces should be a priority, as the search for hidden assets can be confusing and stressful, especially if you have been excluded from the finances during marriage.
For more information about complex financial divorces and uncovering hidden assets, contact a divorce attorney at McKinley Irvin, or read more about the types of assets in a divorce.
Posted By
Jennifer Payseno