The 5 most important qualities your divorce lawyer MUST have
Posted on July 01, 2013 01:06pm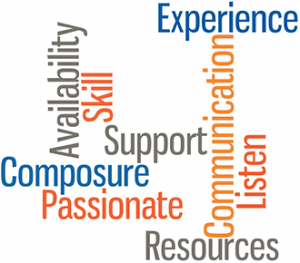 Aside from the death of a loved one, a divorce is one of the most stressful experiences a person can go through. Finding a divorce lawyer can be a daunting task when you're faced with so many other worries. The lawyer you hire will be representing you for several months, or even a year or more, which means finding the right lawyer can make the divorce process a lot easier on you and your family.
When looking to hire an attorney to represent you in your divorce, you should look for someone with the following qualities:
1. The ability to communicate well
Clear and easy communication with your divorce lawyer is critical. During your case, you will need to be able to effectively communicate your concerns and expectations to your lawyer, and your attorney will need to be able to clearly explain things to you regarding your case and provide you with realistic expectations. If an attorney doesn't listen to you well or can't explain things in a way you can understand, you should continue your search.
While it may seem counter-intuitive, your attorney's ability to communicate with your spouse and your spouse's attorney is also essential, because good communication between the attorneys can facilitate fruitful negotiation and keep costs down. A good divorce lawyer will try to negotiate resolution of some of the issues that are important to you before heading straight to court. (Of course, the ability to communicate well with your spouse and his/her attorney does require some cooperation on their part as well.)
If you end up in court, your attorney also needs to be able to effectively communicate with the court and litigate passionately. This is important because you will need your attorney to represent your interests clearly and to be trusted by the court.
2. Skill and experience
You should look for an attorney who not only can represent you, but can represent you well. And in order to represent you well, the attorney must be skilled. Your divorce case is likely to touch all aspects of your life-family, finances, retirement, career, etc. To protect your interests, your attorney should be knowledgeable and experienced enough in his or her practice to deal with the complexities of your case, while allowing you to continue your daily life as much as possible.
You should look for an attorney who has experience in divorce and family law with cases similar to yours. For example, if you are dealing with high-conflict custody, or perhaps a substantial net worth, find out if a divorce lawyer is knowledgeable in those specific areas. Check their credentials thoroughly and look for attorneys who continue to seek knowledge and experience through continuing education opportunities.
3. Availability
When considering hiring an attorney to represent you in your divorce, look for someone who is available at the key points in your case (or who has the support available if an issue comes up while your attorney is in court on another matter or out of the office).
A good divorce lawyer should be available to respond to your questions in a timely manner or, if not available right away, give you a time frame within which to expect an answer.
You should also look for an attorney who is not so busy with other cases that he/she does not have time to devote himself or herself fully to your case. Don't expect to be your attorney's only client, but you should not be lost in a sea of clients, either.
4. Composure (a.k.a. working well under pressure)
Your attorney's ability to maintain composure is not just about staying calm and focused with you, but also about exhibiting self-control before the court or with your spouse's attorney, even if frustrated. You should look for a divorce lawyer who will represent your interests strongly, but who will not take it personally when things do not turn out exactly as your attorney intended.
Surprises happen in divorce, because you cannot fully anticipate what the other side or the court will do. Your attorney should maintain composure so that he or she is always representing your interests and is willing and able to adjust their strategy when needed. Your attorney should be focused, composed, and professional, especially when representing you to the court.
5. Support and resources
It is unlikely that you will be your attorney's only client, and because your attorney is human, your attorney will not always be immediately available to you when you have a question. You should look for an attorney who has support staff and other attorneys available to assist in the event of an emergency. It is also important that your attorney have support and resources available to prepare your case in a timely manner, such as experienced paralegals, support attorneys, and legal assistants.
All that sounds great. But how do I find a divorce lawyer that meets these standards?
Finding a divorce lawyer you are comfortable with, who will also skillfully prepare and present your case and represent you zealously, can take some work. Read our guide on How to Find a Divorce Lawyer for ways to research and select possible attorneys, and keep our 10 Questions to Choose the Right Family Attorney list handy to help you evaluate any divorce lawyer.
Posted By
Lindsay Noel