New Legal Guide on Same-Sex Marriage, Parenting | Divorce in WA State
Posted on July 23, 2013 01:16pm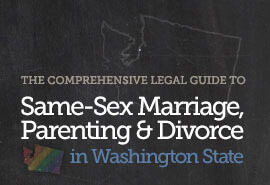 McKinley Irvin is pleased to announce the publication of our comprehensive online Legal Guide to Same-Sex Marriage, Parenting & Divorce in Washington State. Written by our own Jill Mullins, this guide provides an easy-to-understand, comprehensive look into the legal rights, responsibilities, and-especially-the legal complexities that exist for same-sex couples and families.
We address questions many same-sex couples face, such as:
What legal rights are same-sex couples in Washington granted?
How can a same-sex couple establish and protect their legal rights as a family in Washington?
How are same-sex couple's legal rights impacted when moving or traveling to a state that doesn't recognize same-sex marriage?
How should a non-biological parent establish a legal relationship their child?
What does it mean now that the Federal Defense of Marriage Act (DOMA) has been found unconstitutional?
What do same-sex couples need to know about divorce?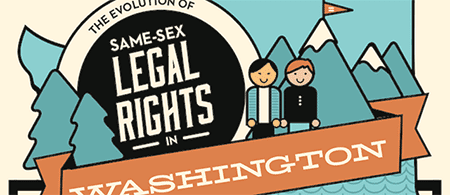 The guide also includes quick guide with a list of McKinley Irvin's top same-sex family law tips, statistics on same-sex marriage and divorce and an illuminating infographic on the evolution of same-sex rights in Washington.
This guide was developed under the leadership of same-sex family law advocate and McKinley Irvin attorney, Jill Mullins. In addition to practicing family law, she is also a board member of the QLaw Foundation and the founder of the GLBT Legal Clinic in King County.
The Legal Guide to Same-Sex Marriage, Parenting & Divorce in Washington State is free and available in its entirety online. It is an invaluable resource for same-sex couples in the state of Washington who want to fully understand their legal rights and how to protect their families.
Posted By
McKinley Irvin