7 Things Not To Do When You're Getting a Divorce
Posted on July 10, 2014 03:21pm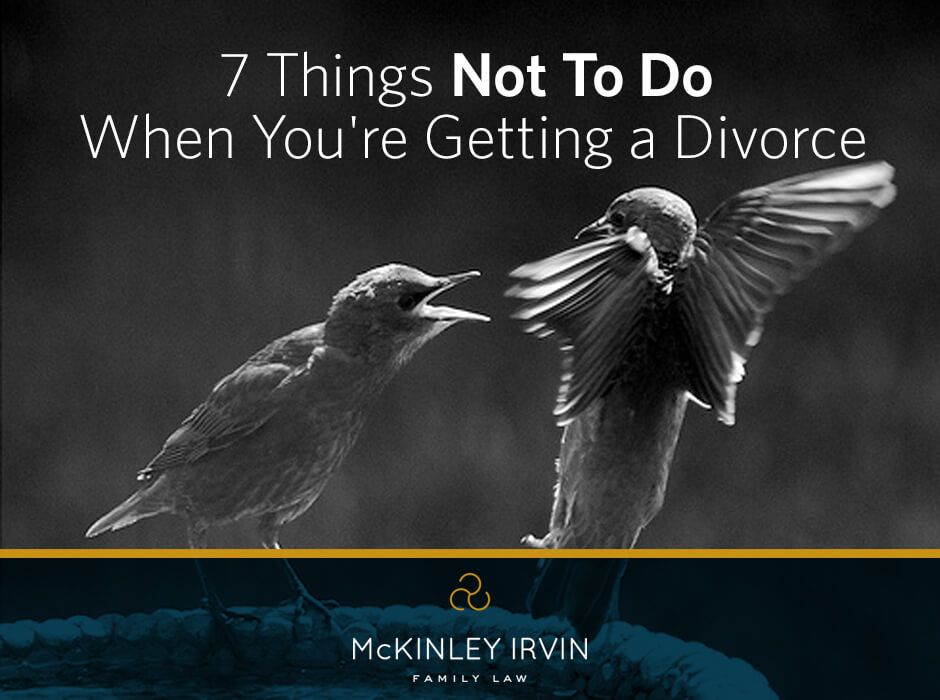 Divorce is a difficult decision — one that often carries profound implications for all parties involved. While in many cases divorce is inevitable, there are certain measures you can take to minimize difficulty during the process.
Here are 7 things NOT to do when you're getting a divorce:
1. Don't let your kids in on all the details.
If you are divorcing and you have children, take care to disclose only what is necessary for them to know. Divorce can have a tremendous impact on children, and while you should explain the decision to them, do not reveal details about the divorce that could harm them emotionally. Avoid slandering your spouse in front of them (potentially inciting a custody matter), and avoid using them as pawns. Make sure they understand that your decision to divorce is not because of them.
2. Don't allow your emotions to get the better of you.
Divorce is a legal matter, but one that is also highly personal. While it may seem difficult and even impossible at times to prevent your emotions from getting the better of you, this can be crucial to ensuring a smooth process and obtaining a favorable result. Allow yourself some time to decompress and check with your attorney before responding to your spouse to avoid saying or doing anything that you may regret later.
3. Don't believe the myth that compassionate attorneys aren't effective attorneys.
Attorneys can be both effective and compassionate, contrary to popular myth. Retaining an attorney who is all aggression can result in a very tense and cold process. The best attorneys are those that take the time to understand where you are coming from and then relentlessly pursue your goals to preserve what you value most.
4. Don't take a backseat approach.
It can be tempting, particularly for those who have been served divorce papers, to take a passive approach to the proceedings. You may be in shock and you may be saddened, but don't be so stunned that you become completely passive. Be reasonable, but do not be afraid to take the reins. The last thing you want to do is be taken advantage of.
5. Don't cut off communication with your spouse.
If you can avoid it, do not cut off communication with your spouse during the divorce proceedings. Keeping an open line of communication (make sure you've discussed this with your attorney first) can be crucial to obtaining a favorable result. While not always an option in heavily contested cases, communicating and negotiating with your spouse can be beneficial.
6. Don't make your private life public.
Divorces have the potential to become extremely messy if both parties are not committed to discretion. Avoid making your private problems public by saying things about your spouse or the proceedings on social media.
7. Don't conceal pertinent information from your divorce lawyer.
Your lawyer is on your side. As your advocate, your attorney can do their job best when they know what they need to know about you. Don't keep pertinent information from your lawyer. By knowing more about you, your lawyer can better understand your goals and formulate a strategy to achieve them.
---
The family lawyers at McKinley Irvin are committed to personalized service and protecting our clients' best interests. We invite you to contact us if you would like to receive more information about our services, costs, or scheduling a consultation.
Posted By
McKinley Irvin