Do I Need a Prenup?
Posted on January 02, 2011 10:17am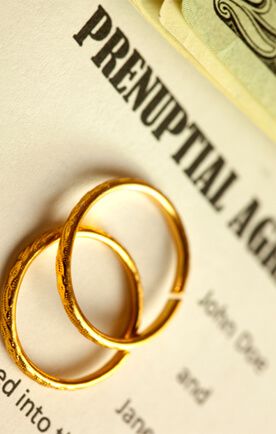 The Facts about Prenuptial Agreements
Nearly one-third of single adults say they would ask a significant other to sign a prenup. And yet, according to a 2010 study by Harris Interactive:
Only 3% of people with a spouse or fiancé have a prenup.
Only 3%? Well, that's still up from the 1% with a prenup when Harris conducted a similar study in 2002. But considering the facts surrounding marriage, divorce, and prenuptial agreements, you would think the numbers would be higher still.
Prenuptial agreements should be discussed before marriage because over half of marriages end in divorce. When you break the numbers down:
50% of all first marriages end in divorce.

67% of all second marriages end in divorce.

74% of all third marriages end in divorce.
With these odds, a prenuptial agreement looks like a good idea for almost anyone getting married, particularly for the spouse with the most to lose. But many couples still can't wrap their head around the idea of a prenup. A prenuptial agreement is like insurance: a small one-time cost for something you hope never to use, but it's there if needed.
The Harris survey also revealed:
15% of divorced people regret not having a prenup.

And 40% of divorced people would ask their significant other to sign a prenup if they remarried.
Prenuptial agreements are becoming more common, as couples realize there are many areas where a prenup would be beneficial to one or both parties. Famous-for-nothing Khloe Kardashian's prenup with her husband Lamar Odom includes a $5,000/month stipend specifically to fund her shopping sprees. A prenup between you and your future spouse won't have to be quite so spendy or specific, though.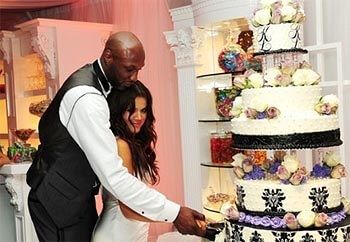 Eight Reasons Why a Couple May Choose a Prenuptial Agreement
One partner is much wealthier than the other. A prenuptial agreement can protect the separate wealth of both parties.
One partner earns much more money than the other. Many states will use a prenuptial agreement to limit alimony payments in this case.
One partner has a lot of debt. If the couple doesn't want to be mutually responsible for each other's debt, a prenup can provide protection.
One partner owns part of a business. Without a prenup, a divorce could lead to a spouse owning a share of a business, which may be unwanted by the other spouse or their business partners.
One partner will be receiving a large inheritance. In the event of a divorce, an inheritance may be shared unless a prenup states otherwise.
To protect an estate plan. If a spouse has done estate planning, a prenuptial agreement can protect the will of their estate, and make sure assets and family heirlooms are distributed as intended.
One partner is remarrying. Remarrying is often more complicated than a first marriage due to children from the previous marriage, child support and alimony obligations, and accumulated separate property. A prenuptial agreement coupled with estate planning can ensure that when a spouse passes away, all their assets are distributed accordingly between family from the first marriage and family from the new marriage.
One partner plans to quit their job to raise children. Quitting a job will impact a spouse's wealth and income. A prenup can protect the non-working spouse and establish that the burden of raising children is shared equally between both spouses.
What Issues Does a Prenup Cover?
Prenuptial agreements are flexible and can include many combinations of legal agreements. Here are some of the most common topics covered in a prenup:
Ownership of the marital home.
Pre-marriage debt responsibility.
Obligations for spousal support (alimony).
Identifying and protecting the separate property that each spouse brought into the marriage.
Division of property in a divorce.
Which state's law the prenup will be governed by (otherwise it will be the state of the divorce, not the marriage).
How future disagreements about the prenup will be decided (mediation, arbitration, or other).
What Issues Does a Prenup
Not

Cover?

During a marriage, financial and other situations can change over time. For this reason, there are many issues involved in a divorce that a prenuptial agreement cannot cover, such as:
Child custody.
Child support.
Child visitation rights.
Anything thought to "encourage divorce."
Also, not all states allow spousal support to be determined in a prenuptial agreement, or even if it is, the support agreement can be deemed unjust or unfair by the court.
In the event of a divorce or separation, courts will scrutinize prenuptial agreements to determine:
Whether the terms are fair.
Whether the each party had sufficient opportunity for legal counsel.
Whether any degree of coercion or pressure was involved.
How Much Will a Prenup Cost?
A prenuptial agreement is most commonly made with each party being represented by a family law attorney. Having the document drawn up will cost between several hundred and several thousand dollars depending on the specifics of the agreement and the attorneys.
Postnuptial Agreements
When a couple wishes to enter into a prenuptial agreement after the marriage, that is (unsurprisingly) called a postnuptial agreement. Courts are more skeptical of postnuptial agreements because in certain cases they are thought to "encourage divorce." But there are several reasons why a postnuptial agreement may be made:
If one spouse is about to enter a business, their business partners may require a postnuptial agreement to protect their company or project.
If the couple is using separate assets to purchase shared property, like a marital home, a postnuptial agreement may be written to protect the value of the individual assets even after they become shared property.
If the couple wants an agreement for anything typically covered by a prenuptial agreement, but didn't make one before the wedding.
A postnuptial agreement is more complicated because, with marriage, a couple has agreed to allow the other person certain rights, and a postnuptial agreement would be giving away some of those rights. A knowledgeable attorney for both people is highly encouraged when determining a postnuptial agreement.
More Information
Prenuptial agreements can be established with the help of a family law attorney. Both parties should be represented by an attorney. If you are considering a prenuptial agreement, you should meet with an attorney. Contact a McKinley Irvin family law attorney for more information.
---
Please be advised that family law cases can be very complex and are different for everyone, based on unique circumstances. The information provided here should not be construed as legal advice in your case.
McKinley Irvin proudly serves Washington State and Oregon with offices in Seattle, Bellevue, Tacoma, Puyallup, Vancouver and Portland. Contact our family law offices to set up an appointment with a McKinley Irvin family attorney.
Posted By
McKinley Irvin