COVID-19 Resource Center
Throughout the COVID-19 pandemic, McKinley Irvin is committed to sharing and publishing information on issues relating to family law and the coronavirus. We are fully operational and remain available for phone and video conferences.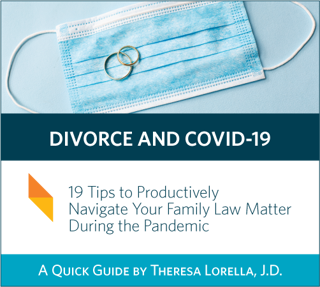 Divorce And COVID-19 Guide
By Theresa Lorella, McKinley Irvin Senior Attorney

This Guide is intended to help answer basic questions you may have about your divorce or family law case in the midst of the COVID-19 pandemic. Theresa is a family law attorney and mediator with 15 years' experience. The topics in this guide reflect the most common questions she has received since the first stay-at-home orders went into effect.
Family Law Temporary Arbitration Orders
As the courts are currently limiting and postponing temporary order hearings due to the Coronavirus, McKinley Irvin's arbitration services offer another way to quickly obtain family law temporary orders that are enforceable by the court. Visit our arbitration page to learn more.
COVID-19 Family Law Blogs
See our blogs on family law issues as they relate to COVID-19.
Resources for Parents
Recommended resources for parents during the COVID-19 pandemic.
Media Inquiries: Legal Insight on Family Law in the COVID-19 Pandemic
As the Pacific Northwest's largest family law firm, McKinley Irvin is a leader in complex and emerging areas of divorce and family law. Our attorneys regularly publish and speak on family law issues.
For press inquiries regarding Washington state divorce law and the COVID-19 pandemic, please contact us at marketing@mckinleyirvin.com or 206-397-0399.