Section: Press Center
McKinley Irvin Named in 2019 "Best Law Firms" by U.S. News
Posted on November 01, 2018 07:00am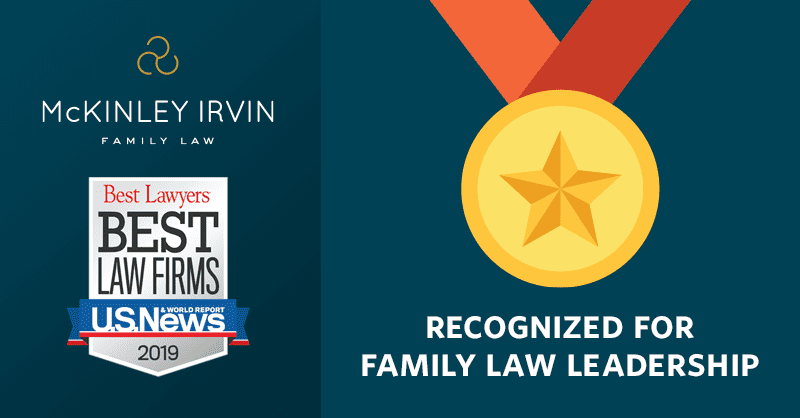 SEATTLE – November 1, 2018 – McKinley Irvin announced today that U.S. News–Best Lawyers® has recognized the firm in their 2019 "Best Law Firms" list for two metropolitan areas in the Pacific Northwest. The firm has received a Tier 1 Ranking in Family Law for the Seattle Metro area and a Tier 2 Ranking in Family Law for the Portland Metro area.
The 2019 listing is McKinley Irvin's eighth consecutive year receiving a Tier 1 Family Law Ranking in the Seattle metropolitan area from U.S. News and the firm's second year to achieve a ranking in the Portland, Oregon metropolitan area.
To be eligible for "Best Law Firms," a firm must have at least one attorney listed in The Best Lawyers in America. Seven McKinley Irvin family law attorneys are currently listed in Best Lawyers. The annual rankings published by U.S. News and Best Lawyers identify the nation's highest performing law firms based on a meticulous selection process, including peer reviews addressing expertise, responsiveness, and civility.
"It is an honor to be recognized for the work that we do to protect our clients and their families during times of crisis and change," said Rita Herrera Irvin, founder of McKinley Irvin. "We are proud of our entire team, attorneys and staff, across all six offices, for what we have achieved together as a firm and the excellent representation and service that we continue to provide."
To view the full U.S. News–Best Lawyers® "Best Law Firms" listings, visit http://bestlawfirms.usnews.com. For more information on McKinley Irvin and the firm's attorneys, visit www.mckinleyirvin.com.
###
About McKinley Irvin
Founded in 1991, McKinley Irvin is the Pacific Northwest's premier law firm focusing exclusively on the practice of family law. McKinley Irvin attorneys are known for their effective legal representation and compassionate client service, representing clients in family law matters including divorce (dissolution), child custody, child support, relocation, parenting plan and child support modifications, international family law, military family law, and other family law practice areas.