Section: Press Center
Well-Regarded Tacoma Family Law Attorney Joins McKinley Irvin
Posted on February 03, 2015 04:17pm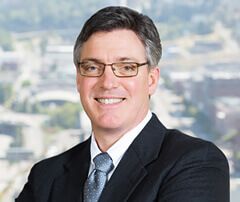 The Pacific Northwest's largest family law firm bolsters practice with the addition of Tacoma attorney Rainer Frank
SEATTLE - February 3, 2014 - McKinley Irvin, the Northwest's premier family law firm, announced that Rainer Frank has joined the firm as an associate attorney. Frank focuses his practice in divorce and legal separations, domestic partnerships, parenting plan modifications, child support modifications, QDROs, contempt proceedings, and enforcement actions on post decree property issues.
Frank has practiced family law in Gig Harbor, Tacoma, and across Pierce, Kitsap, and Thurston counties for over 15 years. The son of a Marine Corps officer, Frank was educated in England, Germany and the US and is fluent in German. Before focusing on family law, he practiced real estate, construction, and property law for five years. Frank's efforts resulted in distinctions from the American Jurisprudence Awards in International Organizations and Environmental & Developmental Land Use Regulation and he is a commissioner at the Peninsula Advisory Commission for Pierce County.
"Family law is an area of practice that can have such a direct and impactful result when great work is done on behalf of our clients," said Frank. "I look forward to joining a family of attorneys who not only work together as a team but advocates strongly on behalf of clients based on their unique situations, goals, and the very real experiences they are having in these trying times."
Over the past two decades McKinley Irvin has become renowned in the Pacific Northwest for their dedication to being at the cutting-edge of family law and providing clients with exceptional legal representation and general support. McKinley Irvin is a leader in all aspects of family law, including divorce, child custody and child support as well as LGBT, international, and military family law.
"We strive to grow our firm with thoughtfulness and purpose. Rainer brings a wealth of knowledge and outstanding client relationships to our team," said Sands McKinley, founder of McKinley Irvin. "Not only does his experience illustrate how effective he is at representing the needs of his clients but shows his dedication to continued advocacy in his field."
To learn more about McKinley Irvin's experience in family law, service philosophy and attorneys, visit www.mckinleyirvin.com.
###
About McKinley Irvin
Founded in 1991, McKinley Irvin is the Pacific Northwest's premier law firm focusing exclusively on the practice of family law. McKinley Irvin attorneys are known for their effective legal representation and compassionate client service, representing clients in family law matters including divorce (dissolution), child custody, child support, relocation, parenting plan and child support modifications, international family law, domestic partnerships, and other family law practice areas.