Section: Press Center
Distinguished Family Law Attorney Joins McKinley Irvin in Vancouver, WA
Posted on July 07, 2015 04:14pm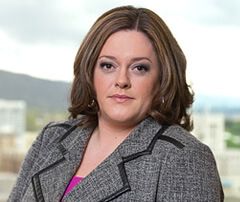 Legal powerhouse and Vancouver attorney Deanna Rusch joins the Pacific Northwest's premier family law firm
SEATTLE - July 7, 2015 - McKinley Irvin, the Northwest's largest family law firm, announced that Deanna Rusch has joined the firm as an associate attorney in the firm's Vancouver office. Rusch's practice includes all areas of family law, with an emphasis on complex divorce, relocation, and inter-state and international custody issues. She is particularly skilled in assisting divorce clients who own businesses or other complex financial assets.
A Pacific Northwest native, Rusch graduated from the University of Washington and attended law school at Gonzaga University where she founded the Sports & Entertainment Law Club. In 2012, she was named a "Washington Outstanding Young Lawyer" by Seattle Met Magazine and was honored as one of The Vancouver Business Journal's "Accomplished and Under 40." In addition, Rusch has been ranked a Rising Star by Washington Super Lawyers every year since 2010.
"Divorce doesn't have to be terrifying," said Rusch. "I look forward to tackling my clients' challenges head-on. The legal complexities of family law can be intimidating, and I make it a priority to ensure my clients feel they have someone on their side while we move them forward."
Over the past two decades McKinley Irvin has become renowned in the Pacific Northwest for its dedication to practicing at the cutting-edge of family law and providing clients with exceptional personal service. McKinley Irvin is a leader in all areas of family law, including divorce, child custody and child support as well as LGBT, international, and military family law.
"Our firm has some of the most thoughtful and well-respected attorneys in the region. Rusch's tenacity and fearlessness in achieving the best possible outcome for her clients is invaluable to our practice," said Sands McKinley, founder of McKinley Irvin. "She's an active member in the legal community and has rightfully gained the respect and admiration of her peers and her clients."
To learn more about McKinley Irvin's experience in family law, service philosophy and attorneys, visit www.mckinleyirvin.com.
###
About McKinley Irvin
Founded in 1991, McKinley Irvin is the Pacific Northwest's premier law firm focusing exclusively on the practice of family law. McKinley Irvin attorneys are known for their effective legal representation and compassionate client service, representing clients in family law matters including divorce (dissolution), child custody, child support, relocation, parenting plan and child support modifications, international family law, domestic partnerships, and other family law practice areas.