Parental Alienation: What Is It, and What Can You Do to Prevent It?
Posted on January 20, 2015 04:39pm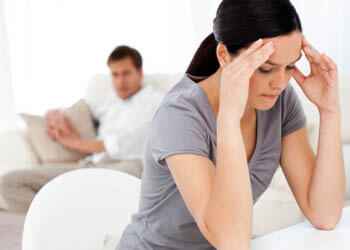 Parental Alienation Syndrome (PAS) is behavioral pattern of unjust dislike or hatred toward one parent. PAS is typically linked to child custody disputes during divorce. PAS was first observed by Dr. Richard A. Gardner, a forensic psychiatrist who noticed the syndrome in the 1980s. According to Gardner, PAS includes the following factors:
Almost always occurs in the context of a child custody dispute between parents
Is manifested by the child, who promotes his/her undue dislike of one parent
May be caused by the child's motivations or intentions of the non-targeted parent
Identifying Parental Alienation Syndrome in Children
Parental alienation is not difficult to identify. Generally, it involves the outspoken and obvious estrangement of one parent. This could include hateful or foul language against the parent, hurtful actions, and more.
Characteristics of PAS in children:
The child seeks opportunities to degrade and ostracize the targeted parent with words and actions.
The child expresses extreme support and protection of the non-targeted parent, especially if this parent initiated the alienation.
The child demonstrates little or no reason to dislike the parent, such as frivolous anger and unfounded hatred.
The child is confident in his/her behavior and does not show a mixture of emotions toward the targeted parent, only anger.
The child shows no guilt regarding his/her unfair treatment of the targeted parent.
The child does not attribute his/her anger to "brainwashing" from either parent. The child believes it was his/her independent idea.
The child often borrows hypothetical scenarios or scenes to validate his/her anger, even though they are impossible.
The child attempts to spread his/her animosity toward the parent to close friends and other family members.
What are the parents' contributions to alienation?
Few parties are blameless during divorce. In the case of parental alienation though, the targeted parent is not responsible for the child's anger or behavior. Extreme cases of PAS may involve brainwashing by the opposing parent, however.
While this is unfair, it is also difficult to substantiate in court. In most cases, the non-targeted parent will simply claim that he/she can't fix the problem since he/she is not actually keeping the child from spending time with the targeted parent.
Strategies for Combating Parental Alienation Syndrome
Parental alienation is difficult but not impossible to remedy. According to researchers, the following strategies can help parents work with their children to overcome PAS.
Consider taking a comprehensive parenting course to develop better skills and tactics to improve your relationship with your child.
Do not allow your emotions to dictate your actions. Stay even-tempered and loving. Reacting with anger will only provoke the child to continue alienating you.
Be persistent. Many PAS cases go to court, so it is important to demonstrate that you are rational and have the child's best interest in mind.
Don't play the victim. Instead, maintain a positive attitude and enjoy spending time with your child. Do not discuss the custody case with your child.
Spend Quality Time with Your Child
Parental alienation is serious. In fact, some experts consider it a form of abuse. If you are the targeted parent in a PAS situation, understand that combating alienation is a personal and legal issue. First, discuss your case with an attorney. It may be helpful to jot down specific instances of alienation so that you can talk to your lawyer about when and where they occurred.
The best strategy to combat PAS is quality time with your child. Avoid comments that demean the other parent, even if your former spouse / significant other encourages PAS in your child. Instead, think of creative ways to show that you enjoy time with your child. Children do not like to hear negative things about their parents, so refrain from comments that seem like an attack against the other parent.
Dealing with parental alienation? Contact Our Washington family lawyers.
If your ex-partner is using PAS to manipulate your child custody agreement, speak with an attorney from McKinley Irvin today. Child custody cases are some of the most involved, complicated, and taxing family law issues. At McKinley Irvin, we are committed to providing the skilled and caring legal guidance that our clients need to reach a successful case outcome. To learn more, contact our office to schedule your first case evaluation.
Posted By