How Divorce May Affect Children and What to Do About It
Posted on November 10, 2015 11:10pm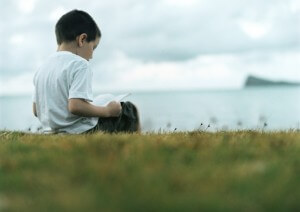 Going through a divorce is a difficult experience for anyone, but it is especially traumatic on children. Often, one parent essentially disappears from the family home, even if they still see that parent on weekends. Instead of one home, they now have two that they are shuffled between—and in some cases, both homes are new environments. Additionally, they may find themselves caught between parents, asked to choose which parent they prefer to live with, asked to deliver messages from one parent to the other, or used as a leverage by one parent to control or intimidate the other.
Here are some of the behaviors that are commonly seen in children during and after divorce, as well as ways to ease or prevent some of the trauma of divorce for kids.
Acting out
Your child may act out against you or the other parent during the divorce process and even for some time afterwards. Some children act out because they don't know how to express their feelings, especially if they are younger. This behavior may show itself in tantrums, aggressive actions towards siblings or a consistent show of anger.
Psychology Today states that adolescents particularly may act out as a form of revenge against you, especially if they feel that it is your fault the marriage broke up. This behavior can include using drugs, disregarding curfews, refusal to comply with house rules, underage drinking, sexual promiscuity and other self-destruction.
Withdrawal/depression
The Huffington Post says that aggression may also be a sign that your child has gone into depression. Essentially, children's mental and emotional state can deteriorate from a mixture of emotions that include resentment, confusion, sadness, anger, guilt and even powerlessness. Symptoms of depression involve the following:
Slipped grades
Lethargy
Sudden quietness/reluctance to participate in activities
Anxiety
Difficulty sleeping
Loss of appetite and weight
If your child is suffering from depression, it is probable that he or she is struggling with feelings of worthlessness and could be having thoughts concerning suicide or dying. It is important to be on the lookout for these signs, especially if depression is present in your family or the other parent's family.
Taking on the role of parent
Older children may feel the need to protect you and, as a result, suddenly become the adult. Instead of playing with their friends, they become more concerned with your health and well-being. You may find them taking care of the house, putting together a grocery shopping list, becoming interested in making sure the bills are paid and they may even try to intercede on your behalf with the other parent. They might even act as a counselor and confidant. This is considered over-functioning according to Empoweringparents.com.
Experts believe children act in this way because they feel a sense of responsibility. With the loss of a parent, they may believe that it is up to them to keep the household functioning smoothly. It is up to you as the parent to make sure that your child is encouraged to be a child and to leave the role of adult up to you.
Getting help
When it comes to children and divorce, early detection of potential problems can make a difference in how they adjust to the changes going on around them. You can help your child deal with their feelings by exercising understanding and patience, implementing rules and structure, and seeking professional help when needed.
Decreasing unnecessary conflict in your divorce can also help to reduce kids' stress and trauma. Talk to your divorce attorney about ways to reduce conflict – while still protecting your interests – in order to provide a more stable environment for your children.
Posted By
McKinley Irvin