How Can I file for a Domestic Partnership in Washington? | LGBT Law
Posted on June 08, 2008 09:06am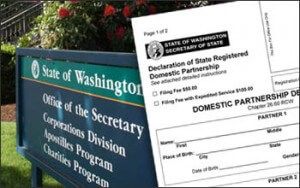 Couples seek a domestic partnership in Washington State to gain many of the same privileges and obligations of marriage. Domestic partnerships in Washington State are most widely sought by same-sex couples who wish to have their relationships recognized by state law and to obtain the same legal rights and responsibilities as married couples.
Obtaining a domestic partnership is not difficult. The details and processes behind filing for a domestic partnership in Washington State are explained in this article.
How is a Domestic Partnership Different from a Marriage?
In Washington State, State Registered Domestic Partners (SRDPs) have the same rights provided by the state as their opposite-sex married peers. Because of the Federal Defense of Marriage Act, which prohibits federal recognition of same-sex marriages and allows states to refuse to honor the SRDPs or marriages parties enter into in other states, there are many rights that same-sex couples do not have when they formalize their relationships with the state. For example:
Registered domestic partners may not file joint federal tax returns.
A domestic partner and his/her children may not qualify for health care coverage under their partner's federally-funded employer-based health insurance plan, if the plan benefits are restricted only to married couples.
Domestic partnerships are not recognized under federal immigration law
Under the Defense of Marriage Act, other states need not recognize Washington State domestic partnership rights, such as the right to visit your partner in the hospital if an illness or injury occurs. Currently 40 states have constitutional amendments which ban same-sex marriages.
What are the Benefits of Domestic Partnership?
If you are eligible, a domestic partnership can provide you and your partner with all of the benefits the state provides to opposite-sex married couples, including:
The right to visit your partner in the hospital and make health care decisions in the event of your partner's incapacity.
The right to take care of a seriously sick or injured partner under the Washington State Family Leave Act (FLA).
The right to inherit assets, receive workers compensation benefits, and make funeral arrangements in the event of your partner's death.
The right to be buried together, if desired.
The right to accumulate community property during the domestic partnership and to the division of that property in the event you end your partnership.
The right for both partners to accumulate joint debts and for those debts to be divided in the event you end your domestic partnership.
In addition, all of the places in Washington's statutes (the Revised Code of Washington) that mention husband, wife, spouse, etc. are amended to refer to domestic partners, There are more than 400 rights and obligations under Washington law that are linked to marital or domestic partnership status. The main areas that relate to marital status include family support obligations including maintenance and child support; community property; adoptions; child custody; creditor rights; public assistance; and property.
Who is Eligible for a Domestic Partnership in Washington State?
According to Washington law, in order to qualify for a domestic partnership the following must be true:
Each partner is a member of the same sex, or one of the partners is 62 or older
The partners live in the same residence
Each partner is 18 years or older
Neither partner is in another marriage or domestic partnership
Each partner is able to consent to being in the domestic partnership
The partners are not related to each other any nearer than second cousins
View the Washington Domestic Partnership law in its entirety to determine if you and your partner are eligible for domestic partnership.
Should I Consult an Attorney Before Entering into a Domestic Partnership?
You should consult with an attorney who is experienced in LGBT family law before applying for a domestic partnership, especially if you were ever previously married, have children, or have significant assets or business interests. An experienced lawyer can answer any questions you might have about how a registered domestic partnership will affect your affairs.
How Do I Apply for a Domestic Partnership in Washington State?
You can submit applications for a domestic partnership either by mail or in person to the Office of the Washington Secretary of State, Corporations Division.
To complete the application process, you and your partner must fill out the Washington State Domestic Partnership Declaration form, have it notarized, and submit it to the State of Washington Secretary of State office. The declaration form for a domestic partnership asks for basic information about you and your partner, such as your name, gender and address, and verifies your eligibility.
Upon approval, the state will provide you and your partner two certificates and two wallet-size cards verifying your domestic partnership.
How Long Do We Have to Wait Before our Domestic Partnership is Official?
If you apply in person at the Office of the Secretary of State, Corporations Division in Olympia, you will receive your certificate and cards on the same day you bring your application to the office. If you apply by mail, there is typically a short wait before you receive your certificate and cards. You can also pay to have your application expedited.
How Much Does a Domestic Partnership Cost in Washington State?
It costs $50.00 to file for a domestic partnership in Washington State. If you need your application for a domestic partnership expedited, it will cost $100.00.
For More Information on LGBT Family Law:
---
Please be advised that family law cases can be very complex and are different for everyone, based on unique circumstances. The information provided here should not be construed as legal advice in your case.
McKinley Irvin proudly serves Washington State and Oregon with offices in Seattle, Bellevue, Tacoma, Puyallup, Vancouver and Portland. Contact our family law offices to set up an appointment with a McKinley Irvin family attorney.
Posted By
Lindsay D. Camandona