Surprising Stats on Social Media & Divorce - Infographic
Posted on August 17, 2015 09:27am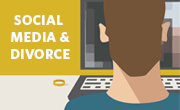 IS FACEBOOK CAUSING DIVORCES?
Social media (and the drama and temptations that come with it) is having a big impact on marriages. So big, in fact, that 1 in 3 divorces start as online affairs. And divorce attorneys now regularly use social media and digital communications as evidence in a large percentage of divorce cases.
Here are the facts.

---
Can your social media activity be used against you in a divorce?
Attorneys agree – what you "share" online may also be shared in the courtroom. Posts, texts, chats, emails, and photos you send or share digitally are now regularly used in divorce court proceedings.
We've published a complete guide to help our clients understand the risks, effects, and precautions they should take regarding social media and digital communications:

Posted By
McKinley Irvin