Advice for College Students Considering Law School
Posted on January 08, 2013 11:08am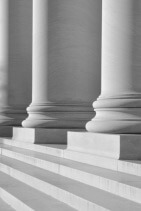 College students considering law school should examine this article for expert advice from McKinley Irvin attorneys. Law school prep begins with your undergraduate university experience, and the decisions you make during it. Bookmark this law school advice resource for future reference.
Every year, more than 100,000 hopeful students take the LSAT as part of the law school application process. Only about 55-60 percent of law school applicants are accepted to one or more schools.
Those accepted begin rigorous study at law school, headed down the path that leads to the practice of law. President Barack Obama had this to say about his study of the law,
"The study of law can be disappointing at times, a matter of applying narrow rules and arcane procedure to an uncooperative reality; a sort of glorified accounting that serves to regulate the affairs of those who have power–and that all too often seeks to explain, to those who do not, the ultimate wisdom and justness of their condition.

But that's not all the law is. The law is also memory; the law also records a long-running conversation, a nation arguing with its conscience."

-Barack Obama, from Dreams from My Father: A Story of Race and Inheritance
If you have been inspired to practice law, review the advice from McKinley Irvin's attorneys to determine how to prepare for law school.
Study Hard
Law schools are highly competitive, and grades and test scores continue to be the top ranking factors for schools filtering through hundreds or thousands of applicants. Maintaining a high GPA indicates that you are studious and invested in your academic performance. The average undergraduate GPA of a student attending one of the top ten law schools in 2012 was 3.78.
Your LSAT score is also weighed heavily by law schools and may be the single most important factor for being accepted. The test measures reading comprehension, logical and verbal reasoning proficiencies. Scoring above 160 will put you in the top 20 percent of test-takers. It is important that your LSAT preparation is comprehensive-take prep courses, prep exams, and dedicate yourself to individual study to achieve a score that will help your chances of getting into law school, not hurt them.
Choose a major that matches your interests
Law school deans have recommended students major in English, history, philosophy or political science when preparing for law school. These majors focus on developing skills in writing, research and analytical thinking-essential characteristics of top law students.
However, any major can help you build this skill set and law schools look for students across a wide variety of majors. Major in something that you find exciting and engaging, which will naturally lead to better focus and attainment of high grades. If you already know what type of law you are interested in, major in something that relates to that interest (e.g., psychology for criminal law, economics or business for corporate law, etc.).
But you don't have to know what type of law you wish to practice when considering law school. Like college, you can explore different interests throughout your studies and make decisions based on those experiences.
Take difficult classes
Identify the most-excellent professors at your college or university; take their classes. Take classes that are demanding academically and mentally. Beyond developing a resume and profile that will appeal to law schools, you also need to develop the analytical thinking skills that are absolutely necessary for success on the LSAT, in law school, and as a lawyer.
"Take pre-med classes. Take any writing class you can, even creative writing, but be prepared not to use creative writing very much. Take classes that require you to develop critical thinking skills and write to prove your hypothesis about a topic. How useful a class will be depends largely on the skill and expectations of the faculty. These could be classes in history, sociology, literature where there are no black and white answers, rather than hard sciences."

- Associate McKinley Irvin Portland
Develop writing skills
Law is a writing-intensive profession. You should be improving and expanding your writing skills throughout your college career. Take writing-centric courses, work for your campus newspaper, do a senior project or independent study. You may also consider a minor in English. Develop a confident ability to express critical analysis through the written word-you'll be doing it a lot in law school and as a lawyer.
Utilize your professional and personal networks
Many law school hopefuls have relatives or family friends who work in the field of law. Use these resources if you have them by keeping them updated on your progress and asking for advice.
One resource all college students will have access to is their advisor. Compiling an impressive undergraduate portfolio involves taking the right classes, enrolling in honors programs and identifying opportunities like internships and research fellowships-this is what your advisor is for. Your advisor can help you analyze your options and make the best decisions for your future in law.
"One of the best ways to utilize personal and professional networks is to get involved. The law impacts every aspect of our lives. There are hundreds, if not thousands, of local, state, regional, national and even international legal organizations. There is bound to be a legal organization connected to something you care about. Learn about the organizations and volunteer to help out with events or activities they organize. Not only could you receive free admittance to interesting events but have the opportunity to demonstrate your interest and commitment. If you meet someone who was nice or interesting, follow-up with them and offer to take them out for coffee to talk more about shared interests."

Jill Mullins, Associate, McKinley Irvin Seattle
Intern at a law firm
An internship is an opportunity to learn more about the legal profession and will help determine if legal work will be professionally satisfying to you. Sure, a good internship will later become a strong selling point on your law school application and resume, but the experience offers more than that.
"Interning at a law firm forces you to start thinking like a lawyer. In law school, it was all too easy for me to settle into my role as a student who only needs to be able brief a case and issue-spot on an exam. While those skills are invaluable, as an intern, you get to apply them while being exposed to the same pressures that attorneys are such as meeting court deadlines, managing time and budgets and opposing counsel. You begin to take responsibility for very real impacts that your work has on the livelihood and interests of your clients. For me, it was learning about law in an entirely new way. Interning at a firm is law school in high gear."

Michael Meredith, Associate, McKinley Irvin Seattle and former law intern
You can also job shadow an attorney or conduct informational interviews to learn more about potential job options.
Become engaged in a law firm so that you can better understand the goals you are working towards. Build strong professional connections you can return to for advice, recommendations or work.
Apply to law school early
Many law schools have rolling admissions, meaning the earlier you apply, the more openings are available. This means starting the law school search process early. Research schools, visit your top prospects and meet with the admissions department, then start working on applications as soon as possible. You will want to cast a wide net when applying and try not to let geographical location affect your initial choices; attending the best school possible is more important in the long run.
Apply for scholarships well before deadlines. Early applicants are often favored for scholarships, and you can build your debt expectations in advance to determine how going to law school will affect your finances. The average law student will have more than $100,000 of debt when they leave law school. The decision to attend will be one of the biggest financial decisions of your life.
"If you are in law school you should spend time growing what Richard Hermann calls your 'contacts roadmap' in his book, The New Lawyer Survival Guide, Vol. 1: From Lemons to Lemonade in the New Legal Job Market. A contacts roadmap identifies contacts that relate to your career objectives, qualifications, and prospective employers. Find people to interview that have relevant information for your career goals and keep records of your contacts, correspondence and applications.

Consider sharing your professional goals with contacts who can suggest additional relevant professional contacts for you to talk to. Find academic and professional opportunities that relate to your career goals and pursue them. The Law Student Division of the American Bar Association provides many valuable resources for current law students from surviving your first year of law school, preparing for the bar exam, networking opportunities and options for academic enhancements. Take advantage of the ABA's resources for law students and resources available through state bar associations. These associations will be vital throughout your career and provide opportunities for networking, leadership, education, and marketing."

Collin McKean, Of Counsel, McKinley Irvin Portland
Take time if you need to
It is common for college students to take a year (or more) off after graduation before attending law school. The admissions process for law school can be emotionally-taxing and time-draining. Trying to manage it all during your senior year can harm your law school aspirations and your undergraduate college experience.
Completing law school applications and studying for the LSAT is a lot to handle during your senior year in high school-possibly too much. Waiting a year allows you to focus on your GPA and college experience, then dedicate time to sufficient LSAT studying and preparation.
This will also give you time to experience more of the world, which can help you decide if law school is right for you. You'll want to think carefully before making the expensive and life-changing decision to attend law school.
For more information, reach out to a McKinley Irvin attorney. And good luck in your academic and professional adventures.
Posted By
Sands McKinley