Section: Press Center
McKinley Irvin Partner Jeffrey Matthews Named to 2018 Oregon Super Lawyers
Posted on July 24, 2018 09:00am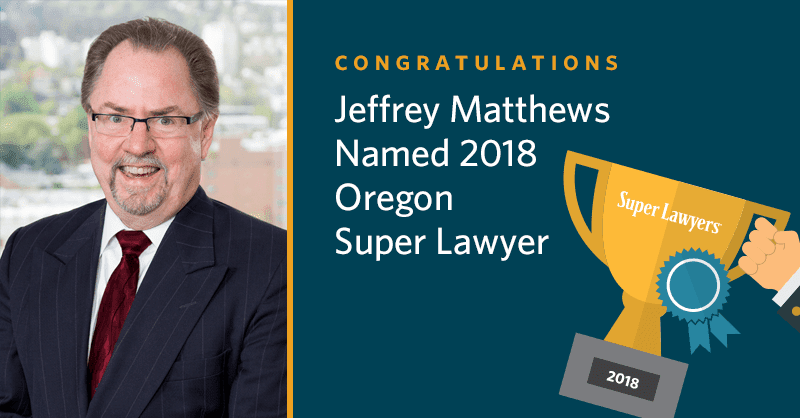 PORTLAND – July 24, 2018 – McKinley Irvin, the Pacific Northwest's premier family law firm, announced today that Jeffrey Matthews, a partner in the firm's Portland office, has been named to the 2018 Oregon Super Lawyers List.
The 2018 listing marks the eleventh consecutive year that Matthews has been recognized in Oregon Super Lawyers, achieving an annual listing every year since 2007. Each year, no more than five percent of all attorneys in Oregon are selected as Super Lawyers.
Matthews focuses his family law practice on financially complex cases, such as estates with high net worth or those involving business interests. He is also a Fellow with the American Academy of Matrimonial Lawyers (AAML) and President of the AAML Oregon Chapter.
"We congratulate Jeff for his selection as a 2018 Oregon Super Lawyer, and for his continued leadership in the practice of family law," said Rita Herrera Irvin, founder of McKinley Irvin. "As a partner with our firm, we are proud of his dedication to his clients and to the community."
This year, 21 McKinley Irvin attorneys were named Super Lawyers and Rising Stars across the firm's offices in Oregon and Washington. To be selected for this honor, attorneys nominate their peers for their professional accomplishments and ability in the practice of law. Super Lawyers selects finalists using independent research to determine the top five percent highest achieving attorneys in each state.
To view the full Oregon 2018 Super Lawyers and Rising Stars lists visit www.superlawyers.com. For more information on McKinley Irvin Family Law, visit www.mckinleyirvin.com.
###
About McKinley Irvin
Founded in 1991, McKinley Irvin is the Pacific Northwest's premier law firm focusing exclusively on the practice of family law. McKinley Irvin attorneys are known for their effective legal representation and compassionate client service, representing clients in family law matters including divorce (dissolution), child custody, child support, relocation, parenting plan and child support modifications, international family law, military family law, and other family law practice areas.