Section: Press Center
Vancouver Family Law Attorneys Lisa Martin and Lisa Ward Join McKinley Irvin
Posted on November 10, 2017 01:10pm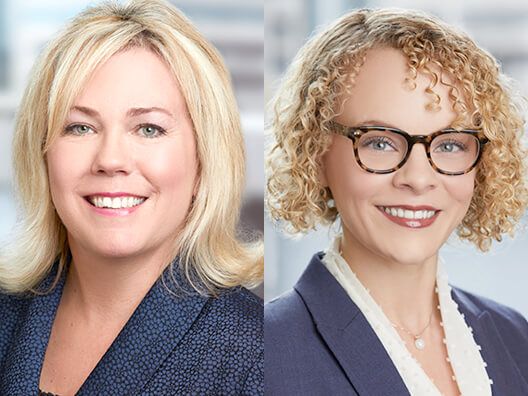 VANCOUVER, WASH. – November 10, 2017 – McKinley Irvin continues its growth in Vancouver, Washington with the addition of Lisa E. Martin and Lisa M. Ward to its downtown Vancouver family law office.
Lisa E. Martin, Senior Attorney

Martin joins McKinley Irvin as a senior attorney with over 20 years of family law practice experience in both Washington and Oregon. She is well known for her knowledge and skill in divorce matters that involve high assets and other complex family law issues. She received her J.D. from the Gonzaga University School of Law and is a former Vice President/President-Elect of the Cowlitz-Wahkiakum County Bar Association.

Lisa M. Ward, Attorney

Ward is a family law attorney with a focus on the collaborative divorce process, which emphasizes conflict resolution and negotiation. She received her J.D. from William S. Boyd School of Law and LL.M in international law from Brussels School of International Studies. She is a former Treasurer of the Clark County Bar Association and former Vice President of the CCBA Young Lawyers section.
"Our family law office in Vancouver continues to grow and attract some of the best practitioners and family advocates in the region, like Lisa Martin and Lisa Ward," said Sands McKinley, founder of McKinley Irvin. "The caliber of these two attorneys will be a great advantage to the clients we serve in the Vancouver community; we are delighted to welcome them."
McKinley Irvin's Vancouver office is located at 1111 Main Street, Suite 300, Vancouver, WA. To learn more about McKinley Irvin's experience in family law, service philosophy, and attorneys, visit www.mckinleyirvin.com.
###
About McKinley Irvin
Founded in 1991, McKinley Irvin is the Pacific Northwest's premier law firm focusing exclusively on the practice of family law. McKinley Irvin attorneys are known for their effective legal representation and compassionate client service, representing clients in family law matters including divorce (dissolution), child custody, child support, relocation, parenting plan and child support modifications, international family law, and other family law practice areas.