Section: Press Center
Family Law Attorney Marc Christianson Selected to 2016 Top 10 Washington Super Lawyers List
Posted on July 13, 2016 03:40pm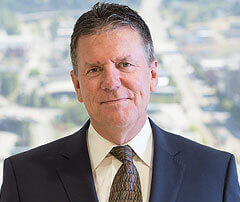 SEATTLE – July 13, 2016 – Attorney Marc Christianson, law practice managing partner at McKinley Irvin, is the sole family law attorney to be named in the Top 10 of the 2016 Washington Super Lawyers list.
This is Christianson's eleventh consecutive appearance in the Washington Super Lawyers list, his sixth year appearing in the Top 100, and his first in the Top 10.
Having practiced family law in Washington State for 41 years, Christianson has achieved some of the profession's top distinctions. The Washington Super Lawyers Top 10 honor follows Christianson's selection last year as Best Lawyers® "Lawyer of the Year" in the Family Law category for the Seattle metro area. Christianson is also a Fellow of the American Academy of Matrimonial Lawyers (AAML).
"I am honored to be recognized among the top attorneys in the state by my peers in the legal community," said Christianson. "In family law, we focus on our clients' well-being and obtaining successful outcomes that impact the rest of their lives. It is inspiring to be acknowledged for such rewarding and challenging work."
The Super Lawyer recognition is bestowed on attorneys who are nominated by their peers for their professional accomplishments and dedication to the practice of law. Finalists are then selected using independent, third-party research to determine the top five percent highest achieving attorneys in each state.
To view the full Washington 2016 Super Lawyers and Rising Stars lists visit www.superlawyers.com. For more information on McKinley Irvin and the firm's attorneys, visit www.mckinleyirvin.com.
About McKinley Irvin
Founded in 1991, McKinley Irvin is the Pacific Northwest's premier law firm focusing exclusively on the practice of family law. McKinley Irvin attorneys are known for their effective legal representation and compassionate client service, representing clients in family law matters including divorce (dissolution), child custody, child support, relocation, parenting plan and child support modifications, international family law, and other family law practice areas.