Section: Press Center
McKinley Irvin Attorney Selected to Washington Super Lawyers Top 50 Women list
Posted on December 11, 2015 03:55pm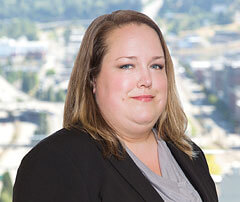 Military family law expert and Tacoma attorney Laura Carlsen ranks in Top 50 2015 Women Washington Super Lawyers
SEATTLE – December 11, 2015 - McKinley Irvin, the Northwest's largest family law firm, is proud to announce that Laura Carlsen ranks in the Top 50 Women list of 2015 Washington Super Lawyers. Carlsen's practice emphasizes a wide range of family law matters including divorce and child custody. She is particularly experienced in military family law cases, adept in the practice of the unique blend of federal and state law that applies only to military families.
Carlsen graduated from the University of California at Berkeley and attended law school at University of Oregon School of Law. She was a nationally ranked debater, among the top 100 in the United States, ranking as high as #2. In 2012, Carlsen was nominated as a Rising Star by Washington Super Lawyers, and has been positioned on the Super Lawyers list every year since 2013.
"Family law is complex, and every day brings a new set of challenges" said Carlsen. "I actively research and seek new ways to help my clients achieve the best outcome possible."
Over the past two decades, McKinley Irvin has become renowned in the Pacific Northwest for its dedication to practicing at the cutting-edge of family law and providing clients with exceptional personal service. McKinley Irvin is a leader in all areas of family law, including divorce, child custody and child support as well as LGBT, international and military family law.
"Laura is a seasoned negotiator and litigator. She approaches each case with compassion, high standards and professional tenacity," said Sands McKinley, co-founder of McKinley Irvin. "She is constantly seeking new ways to raise the standards of family law practice."
To learn more about McKinley Irvin's experience in family law, service philosophy and attorneys, visit www.mckinleyirvin.com.
###
About McKinley Irvin
Founded in 1991, McKinley Irvin is the Pacific Northwest's premier law firm focusing exclusively on the practice of family law. McKinley Irvin attorneys are known for their effective legal representation and compassionate client service, representing clients in family law matters including divorce (dissolution), child custody, child support, relocation, parenting plan and child support modifications, international family law, domestic partnerships, and other family law practice areas.