Same-Sex Marriage & Divorce in Washington

History of Marriage Equality in Washington State

A detailed history of same sex unions can be found online. In this guide, our focus is on the key laws affecting same-sex couples and families in Washington State.

Failed Efforts to Obtain Marriage Equality in Washington through the Courts
The first Washington gay marriage case came before the state Supreme Court in 1974. In Singer v. Hara, same-sex couples argued that Washington's Equal Rights Amendment, which prohibits discrimination based on sex, prohibited the denial of marriage to same-sex couples. The Court rejected this argument.
Thirty-two years later, in 2006, the Court heard the Anderson v. King County case. This case challenged the ban on same-sex marriage under Washington State's version of an Equal Protection/Privileges and Immunity Clause. The Court rejected this argument, with much of their reasoning centered on the premise that the purpose of marriage was for reproduction, ignoring the fact that same-sex couples were raising children in Washington, whether through previous marriages, gay adoptions, assisted reproduction technologies, and second parent/co-parent adoptions. The Court also ignored the fact that there was no prohibition on opposite-sex couples from marrying if they did not intend to have children.
Legislative Action: First, Domestic Partnership
For close to thirty years, Cal Anderson and Ed Murray introduced bills in the Washington State Legislature to legalize same-sex marriage. These bills did not gain traction until 2007.
Part of the reason domestic partnership laws started gaining traction was because of the public's increased acceptance of gay marriage. One couple's experience helped to bring attention and evoke empathy for the unfairness experienced by same-sex couples:
In December 2006, there was a flash flood in Kate Fleming and Charlene Strong's Madison Valley neighborhood. Kate was trapped in the couple's basement as it rapidly flooded with water and was critically injured. When Kate arrived at Harborview Medical Center, Charlene, her partner of nine years, was denied access to Kate's hospital room. Kate died as a result of her injuries.
The details of the story are heartbreaking. However, this tragedy helped legislators evolve their thinking and Washington passed its first domestic partnership law.
---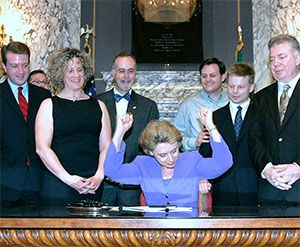 WA Governor Chris Gregoire (center) as she signs the Domestic Partnership Registry Bill alongside Charlene Strong (left).
---
The first domestic partnership law focused on death and medical issues and addressed hospital visitation, funeral arrangements, inheritance without a will, wrongful death actions, and health insurance benefits for state workers. The law granted domestic partners approximately 6% of the privileges and obligations conferred to married couples.
In 2008, Washington State passed an expansion of the rights granted to domestic partners. The recognition of "community property" was one of the approximately 200 rights and responsibilities that were included in the 2008 Domestic Partnership Expansion.
In 2009, the legislature passed and the citizens approved Referendum 71, the "Everything But Marriage" Law. This law extended every remaining state law and obligation of marriage to registered domestic partners, to the extent it did not conflict with federal law. "Everything but Marriage" became effective on December 6, 2009. One major change made by this law was that both parents in a same-sex relationship would be presumed to be the legal parents ( in Washington) of the children born during the domestic partnership.
Washington State Legislature Passes Same-Sex Marriage Bill
The Washington State Senate and House of Representatives passed a bill to legalize gay marriage on February 13, 2012.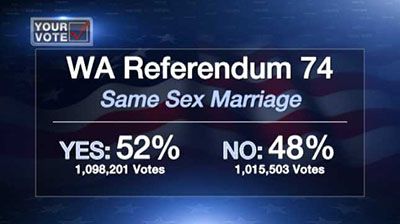 Opponents of the same-sex marriage law acted quickly to force a public vote of the issue. They gathered enough signatures to put a referendum on the ballot which sought to approve or reject the same-sex marriage law in the November 2012 election.
A final vote of 53.7% approved marriage equality.
Finally, Same-Sex Marriage Becomes Legal in Washington State
Same-sex couples were able to obtain marriage licenses in Washington beginning December 6, 2012. In addition to permitting same-sex marriages, Washington would also recognize same-sex marriages legally established in other states or countries.
The law also allowed partners in a same-sex state registered domestic partnership to marry each other. If people remained in a state registered domestic partnership, but did not marry, their partnership would automatically convert into a legal marriage as of June 30, 2014, without the partners seeking a marriage license. While state registered domestic partnerships will no longer be available to most couples, the state will continue to recognize these relationships under certain circumstances. Most notably, it is required that at least one partner be over the age of 62 years.