Income Considerations
One of the main concerns for anyone getting a divorce is, "where will I get my income and how much will I have?" This is particularly true for couples divorcing later in life.
Some of the concerns regarding income in a Gray Divorce are:
Your expenses as a single person may increase compared to being married.
You may have to pay spousal support payments (alimony).
If you haven't worked recently or regularly, it may be difficult to enter the workforce later in life.
You may need income to fund a delayed retirement or to ensure your retirement savings aren't depleted too quickly.
Splitting a retired couple's fixed income can result in insufficient resources to support your lifestyle.
A qualified Gray Divorce attorney should assist you in understanding what impact a divorce may have on your post-divorce income and lifestyle, and help you develop a strategy to optimize the results in your case.
Will I pay/receive spousal support or alimony?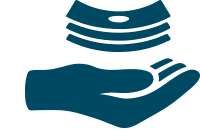 Spousal support payments are common when a long-term marriage ends. Long term spousal maintenance is definitely a possibility, particularly if one spouse earns significantly less or has no income. When determining spousal maintenance awards, each spouse's income, education, earning potential, and health are scrutinized.
If you might be subject to paying spousal support, your divorce attorney should explain your options for non-taxable spousal support payments and how your retirement planning will be affected by long-term spousal maintenance.
If you are the lesser-earning spouse, it is important for you and your divorce attorney to establish what amount and duration of spousal support will provide you with financial security, although you should also expect that lifestyle changes (such as finding employment or living on a budget) may still be necessary.