Competency Concerns
Is Competency a Concern?
As people increase in age, they may be more likely to have medical conditions that affect their competency. If there are concerns about either party's competency or his/her ability to make reasonable decisions during the divorce proceeding, it is advisable to address the competency issues with an attorney.
If competency is in question, an attorney can assist with a verification of competency, which will involve seeing a doctor and providing current and past medical records.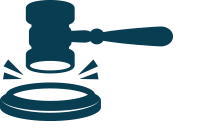 If a party is found to be not competent, consideration should be given to whether a guardian ad litem (GAL) will be needed to assist one of the spouses during the divorce. A guardian ad litem is an individual appointed by the court to represent the best interests of a person who is not able to fully represent their own interests.
In this scenario, third parties may also be consulted, such as a Financial Durable Power of Attorney, if it exists. Adult children who are privy to the potential competency issues may also be of assistance.