Section: Press Center
Portland Family Law Attorney Samantha Hazel Joins McKinley Irvin
Posted on March 06, 2017 02:10pm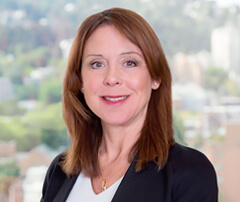 PORTLAND – March 6, 2017 – McKinley Irvin continues its growth with the addition of Samantha Hazel as Senior Attorney to its Portland, Oregon family law office. Hazel is a respected attorney in the region's family law community with more than 15 years of diverse experience in Portland. Her practice is focused on high asset divorce, high conflict divorce, contested child custody, and domestic abuse issues.
In addition to family law, Hazel has worked in medical malpractice law, personal injury defense, medical research and health insurance policy, and as a criminal prosecutor with the Clackamas County District Attorney's Office. She is a former President and Vice President of the Clackamas County Bar Association.
"Samantha Hazel is a passionate advocate for families in Portland and a true asset to the clients she represents," said Sands McKinley, co-founder of McKinley Irvin. "We are thrilled to welcome an attorney of her caliber, tenacity, and dedication to our firm as we continue to provide exceptional family law services to the Portland community."
Hazel received her Juris Doctorate (JD) at University of Oregon School of Law and holds a Masters of Business Administration (MBA) from University of Utah.
McKinley Irvin's Portland office is located at 1000 SW Broadway Street, Suite 1810. To learn more about McKinley Irvin's experience in family law, service philosophy and attorneys, visit www.mckinleyirvin.com.
About McKinley Irvin
Founded in 1991, McKinley Irvin is the Pacific Northwest's premier law firm focusing exclusively on the practice of family law. McKinley Irvin attorneys are known for their effective legal representation and compassionate client service, representing clients in family law matters including divorce (dissolution), child custody, child support, relocation, parenting plan and child support modifications, international family law, and other family law practice areas.